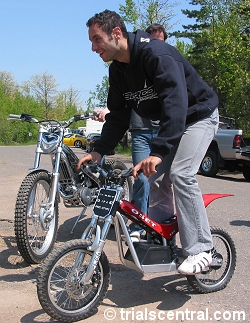 Albert Cabestany test rides
the OSET Protoype at Duluth, 2005It is exactly 10 years ago this week, the first OSET Bike rolled out of Ian Smith's garage in Denver, Colorado, to be ridden by his son, Oliver! Named after its inaugural rider, Oliver Smith Electric Trials, the then 3 year old Oliver took to the machine like a duck to water. Within just a few minutes he was riding standing up and just a week later was competing against children aged eight and nine. Within the month the smallest rider in town was making headlines, taking the top spot on the podium against the older kids. OSET Bikes is the brainchild of Ian Smith, who wanted a safe, lightweight, fun machine for his young son to ride. What started out as a garage project, between himself and engineer Mike Buchholz almost overnight, became a valid business concept that has taken the world of off-road motorcycling by storm!
Fast forward 10 years and the 'project' now sells bikes to over 25 countries worldwide, has six models and a clothing and accessories range. The company has been invited to attend the highest profile events the UK has to offer, including MOTO GP, WSBK, BSB, Isle of Man TT and Goodwood Festival of Speed. And its proven technology has seen the company consistently dominate the youth trials scene for the last two years, making it the first electric powered machine, anywhere in the world to win a national championship against petrol counterparts.
While OSET Bikes has enjoyed unprecedented success, Ian is keen to keep his feet firmly on the ground. He said: "It's an amazing feeling looking back today and remembering the day Oliver rode the very first bike. I honestly can't quite believe we're here ten years on. It was never the intention and every year our breath is literally taken away by what we've been able to achieve. We have literally learnt as we've gone along and we're still learning. When we started we had no experience of manufacturing on a large scale – and especially pulling together something as complicated as a motorcycle that contains over 250 component parts.
"We are on the 9th generation of the bike. As technology changes and our 'field' knowledge increases, we have been able to develop the OSETs to ensure we always deliver on safety, reliability and most importantly fun! As OSETs have grown in popularity, we have worked with the ACU to help bring about the E-Class – enabling 4-6 year olds to ride electric bikes competitively. We have also introduced OSET Cups events around the UK. The aim is to help kids get the most out of their OSETs and boost the popularity of trials from a young age. We also run the OSET Dynamos – a free to join OSET owners club."
OSET Bikes are the ideal starter bike for children, whether for a bit of back-garden fun or with a view to developing a serious hobby. Designed specifically for trials riding, children develop balance, throttle control, agility and skill on a bike that provides the solid foundation needed to excel in whatever form of two wheeled sport they go onto enjoy.
Ian finished: "It's been a rollercoaster of a decade for OSET Bikes and as we look to develop our range, we're definitely up for the thrills and spills of the next 10 years!"