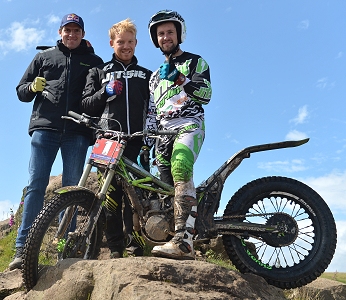 Factory Vertigo rider James Dabill gave the prototype Combat its first ever national title as he wrapped up the 2015 British Trials Championship with a 2 - 1 showing over the two days of competition at the penultimate event in the series held in Scotland this weekend. This marks Dabill's sixth domestic crown and his maiden championship since joining the Vertigo project earlier this year. James now holds an uncatchable sixty-three point advantage in the general standings with just one round remaining later this month.

Fresh back from the latest Trial Grand Prix in the USA last weekend, Dabill did not have it all his all his own way on route to claiming his latest British title at the Bob MacGregor Trials Academy in Ayrshire. The quarry based, purpose made trials park proved to be a tough ask for both James and his fellow World contender Jorge Casales on the opening day, with a rain shower during the second lap making conditions ultra slippery as soil dragged on to the many carefully positioned boulders.

Two fives in the first two sections saw Dabill having to play catch up on Saturday as Casales moved into an early lead that he was not to surrender on day one. James' closing two laps were much more on a par with his Spanish rival, but despite his improved showing during the latter stages the Vertigo rider was unable to close the gap on Jorge and had to settle for second place on Saturday, although this was still sufficient for him to lift the title with two counting days of the series still remaining.

Overnight rain and the introduction of some new sections saw a new test for Sunday's trial, and one that was more to James' liking. This time it was Dabill, on board the two-stroke fuel injected machine, who edged into an early lead as he held a two-mark advantage over Casales after the initial twelve hazards.

This slight cushion would end up being decisive as these leading two protagonists matched each other absolutely mark for mark over the remaining two laps on Sunday. Both dropped sixteen marks apiece on laps two and three, meaning that James was to take the win on the second day, in what was a direct reverse of the previous day's top two placings.

Vertigo Sports Team Manager Dougie Lampkin was delighted to be on hand to see this historic first title for the new manufacturer "First of all I want to say congratulations to James because he was the man holding the handlebars, but I also want to say a massive well done to everyone in the team and back at the factory in Barcelona for all their hard work too."

"It seems hard to believe that James only made his debut on the prototype Combat earlier this year and already it is a winning machine. I think this first national title and our earlier SSDT victory shows just how far we have come in a short amount of time and proves how good the production bike will be when it is available to the public in just a few months time."

Dabill spoke after the event and said. "I am super happy to have won the British Championship for a sixth time and what makes it even more special is that is the first national title for Vertigo in only their first season of competition. I would like to say thanks to my minder Josh, to the big man - Dougie and to all of the Vertigo team who have made this possible."