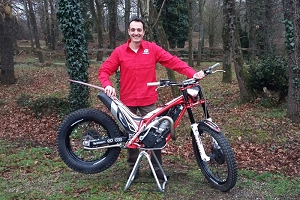 Beginning today, Gas Gas and Marc Colomer join forces in the trial development department of the rejuvenated Gas Gas brand. Following the recent acquisition of the Girona company by Torrot Electric, incorporating Colomer represents one of the first decisions in the process of relaunching Gas Gas in the world of Trial, a discipline that since its birth, is part of the DNA of the brand.
After an extensive professional career that began with bicycles, particularly in the Trialsín where he won his first two World titles, as well as major sporting successes including the title of Trial Outdoor World Champion, which Colomer won in 1996, and three consecutive indoor World titles between 1994 and 1996. Linked throughout his sporting career to the world of trial, the paths of Marc Colomer and Gas Gas converge once again in this discipline.
The Catalan rider - now retired from professional competition - brings his racing experience and his extensive knowledge in the Trial sector to boost the Gas Gas Trial development department, which will maintain its highly popular TXT Series range, and in particular, the TXT Pro 300 Racing model, seen by the marque as being the ultimate point of reference at World Championship level in the sport of Trial.