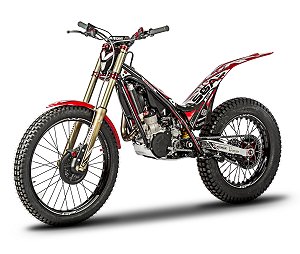 Gas Gas Motos are pleased to present the new TXT GP 2018, the most exclusive and exciting thoroughbred from the Girona marque.. A special edition, with a markedly sporting character, in which Gas Gas has taken care of every last detail. A limited series committed to excellence and the highest quality of its components to offer our customers the sensations and the feel of an authentic Grand Prix trial bike.
This new offering presents the utterly superlative model of its successful trial range: the new Gas Gas TXT GP 2018. At first glance, out of all the wild horses of a herd, an impetuous steed always stands out because of its exultant and arrogant beauty. A born leader the group looks up to for its agility, cunning and resistance. The uppermost pinnacle of the saga, like the new Gas Gas Grand Prix. A special edition, inspired by the great wins, destined to become an object of cult for the passionate followers who strive to experience the same sensations as an official rider competing on an authentic trial thoroughbred.
In its tireless quest for excellence, Gas Gas has made a commitment to a long list of top quality components for its most exclusive trial model, the new Gas Gas TXT GP 2018, a direct legacy of its vast experience in the world of competition. A long-awaited limited series that will only be produced in the Salt factory in the 300, 280, 250 and 125 cc capacities.
The extraordinary quality of its elements is one of the main symbols of identity of this "Special Edition" from Gas Gas, an exclusive series that returns to the emblematic red colour of the brand, mixing small brush strokes of black and white, to highlight still more its racing and sports appearance. A bike in which, at first glance, what stands out is the Renthal handlebar, together with its corresponding protectors as well as the red, high temperature resistant cooling hoses.
Visible details that join others, which may go unnoticed, but are just as important, such as the titanium header pipe or the new aluminium suspension clamps. Elements made with the best materials and compounds on the market to help lighten the weight of this agile, manoeuvrable and powerful new Gas Gas bike.
Article Continues After Gallery
RACING PARTS FOR PRECISION RIDING
The new Gas Gas TXT GP 2018 goes to great lengths in the complex matter of balance with the addition of a new Tech front fork and Öhlins rear shock absorber. A gold colour suspension set-up, passed down directly from the racing department, which adopts new springs and adjusters to offer additional stability and traction to this model.
Designed to satisfy the wide range of the brand's customers without interfering in its strong competition character, Gas Gas has decided to implement a variable preload to the clutch spring of its new TXT GP, so each rider can adjust the clutch to their own type and level of riding, more or less extreme. A clutch preload system that makes an improvement in its sensitivity and feel and in addition helps to extend its life.
MAXIMUM QUALITY UP TO THE SMALLEST DETAIL
The list of new parts increases when we go into the details of the bike and especially of its engine, with the incorporation Boyesen carbon reeds, dual spark CDI and closed-core coil - both signed by Hidria- and a new air filter box, also made in carbon fibre, which contributes to a greater gas flow throughout. Improvements in torque at both low and medium revs, greater than ever in this Gas Gas TXT GP. A model with a new cylinder head and cylinder head insert system allows an even greater increase in the compression of the engine, accentuating its competition behaviour.
A special edition that complies with all requirements of the Euro4 regulations and which the Salt factory is expected to produce a limited, strictly numbered series easily distinguishable by the identification plate on the Gas Gas TXT GP, available from next month in official brand dealers.
GAS GAS TXT GP 2018 NEW COMPONENTS
Tech gold colour front suspension with a new springs and adjusters
Öhlins shock absorber with adjusters specially developed for the TXT GP
Clutch spring with variable preload
Boyesen carbon fibre reed valves
Double spark CDI and closed core Hidria coils
Carbon fibre filter box
Cylinder head and insert system
Renthal handlebar and protectors
High strength red silicone cooling hoses
Numbered 'Special Edition' with identification plate
FIM regulation disc brake
Titanium header
Carbon fibre exhaust protector
Lightened suspension clamps