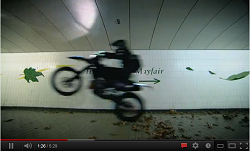 Gas Gas factory rider Dougie Lampkin continues to show that there is no end to his talents, after having recently played a major part in a big budget, new Olympics-linked promotional video for the car manufacturer Mini. Based around the famous Italian job movie, Dougie was given the slightly diverse job of doubling for supermodel Jodie Kidd.

Having previously worked with World renowned car stunt driver Paul Swift, Dougie's services were once again requested for this very specialised role, as he explained. "I had worked with Paul Swift before on Top Gear Live, and he asked to work with me again. There are only a few people you can trust when you are riding / driving like that so the feeling is mutual as Paul really knows what he is doing."

Filmed over four nights in central London, the complicated plot and processes utilised a rolling police road block so that the action could be shot on public roads with some of the capital's most iconic landmarks as the backdrop. Riding his factory Gas Gas enduro machine Lampkin played an intricate game of cat and mouse as he tried to escape the three pursuing Minis.

Talking about his adventure Dougie said. "It was quite a strange feeling to be riding down the streets of London in the middle of the night and having the whole place pretty much to ourselves. We had a lot to do, so they were four long nights, although it was hard work, it was also quite good fun."

The plot centres around Dougie / Jodie having stole three Olympic gold medals that are later revealed to belong to actual medal winners Jonathan Edwards - Triple Jump plus rowers James Cracknell and Matthew Pinsent. Fellow Olympic gold medal winner Daley Thompson - Decathlon plays the role of the gang boss who is tasked with recapturing the stolen goods.

Speaking about the story line Lampkin explained. "As soon as I saw the initial script and idea I wanted to be involved. I am delighted to have been selected and to have played my part, as it is not everyday you get to pretend to be Jodie Kidd!"

At almost five and a half minutes in length the resulting video gives Dougie a great opportunity to showcase his two wheel talent in a number of different scenarios, many of which you would not normally find him or an enduro bike in. With Lampkin busy winning the recent Scottish Six Days Trial, the twelve times World champion handed over to Martin Craven to complete the final jump sequence in which Jodie and the medals are captured.

Dougie ended by saying. "I am really pleased with the finished film and am proud to list my involvement in this project alongside my sporting achievements."

To date the video has been viewed nearly half a million times on YouTube.
s Gas factory rider Dougie Lampkin continues to show that there is no end to his talents, after having recently played a major part in a big budget, new Olympics-link