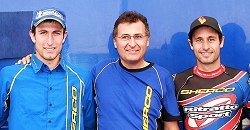 While they were at the Grand Prix of Italy, Albert Cabestany and Alexandre Ferrer both renewed their contracts with SHERCO for a further three years until 2015. Both riders already know and appreciate the Sherco World Pro Team and will continue riding with the team for the next 3 seasons.
Albert Cabestany, who is the FIM X-Trial Vice Champion and is currently in second place in the World Trials Championship has been the Sherco flagship rider since 2005.
Cabestany's list of accomplishments is outstanding (born June 26th, 1980):
Finished in third place in the World Championship 2 times and finished in the top 5 every year since 2004.
Indoor World Champion in 2001 and runner-up six times.
Spanish champion in 2002 and runner-up three times.
Spanish indoor champion in 2002, 2003 and 2006, runner-up five times.
This does not include the nine Trials of the Nation World Championship titles and the 11 Indoor Trials Des Nations titles.
From the Sherco Academy, Alexandre Ferrer is a great hope for the future for SHERCO. Alex has already won the FIM World Cup Junior Trial and he has already ridden one round of the World Championship in the Pro Class. His first Grand Prix indicated that he is full of promise. With a talented rider such as Albert Cabestany by his side, and an outstanding team to support him, Alexandre is going to be a rider to watch.
Alexandre Ferrer's list of accomplishments (born March 29, 1990):
2008
3rd (World Youth)
1st (Europa Junior)
2009
5rd (World Junior)
3rd (France)
2010
3rd (World Junior)
2nd (France)
2011
5rd (World Junior)
3nd (France)
2012
1st (World Junior)