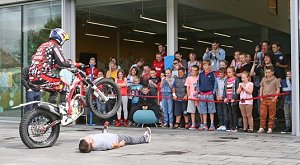 Dougie Lampkin gave two groups of youngsters a day to remember as the twelve times FIM Trial World Champion recently paid surprise visits to a pair of youth centres in the Manchester area. Organised in conjunction with Red Bull and Manchester City Council, Dougie put a big smile on the faces of around one hundred kids during his two separate special appearances that had been kept secret from the young audiences to add extra impact to the occasion.

Identified for their work with the younger generation, OnSide North West who are responsible for both facilities, are a charity with one aim, which is to build a network of twenty-first century youth centres across the region, giving young people quality, safe and affordable places to go in their leisure time.

The Factory Youth Zone situated in Harpurhey, that is located North East of the city centre is testament to this vision and boasts state of the art facilities for the local youngsters to enjoy outside of school hours both in term time and during the holiday periods. An interested and eager party watched attentively as Dougie and his team delivered an informative presentation packed with videos and key facts about all things trials.

Lampkin then treated the captive audience to their own private demonstration when they got the chance to see the ex multi FIM World Champion up close and personal and appreciate his skill and control borne out of many, many hours of hard work and dedication. Dougie also took the opportunity to answer an array of questions posed by the now eager fans, as they enquired about his route to success and how they might follow in his footsteps.

This enlightening process was then repeated later in the day, as Lampkin dropped in unannounced on another group of children at the Mahdlo centre in Oldham. Here, around sixty more enthusiastic youngsters were also given an afternoon to remember, and were not shy when it came to grabbing Dougie's autograph and their personal photos of their new found hero.


Speaking about his day in the community Dougie stated. "If I am honest I wasn't too sure what to expect and with trials not being a main stream sport I wondered how I was going to be received. As it turned out the kids' reaction was absolutely fantastic from the first to last minute. I think the many smiling faces told the story better than anything I can say."

"As we have seen with the Olympics, it is so important to inspire the next generation and when you visit places like the Factory and the Mahdlo centre you realise just how important these kind of projects are in terms of creating the right platform from which the kids can go on to achieve their dreams. Equally I have also been inspired by the youngsters I have met today, their enthusiasm and passion is infectious and makes you appreciate our responsibility to point them in the right direction."

Dougie Lampkin will take part in the Red Bull City Trial to be held in Piccadilly Gardens, Manchester on Saturday 1st September, where as well as competing against other international grade riders, he will also use the opportunity to teach the next generation of riders the skills to take their riding to the next level. Red Bull City Trial is a free admission event suitable for all age groups with no prior knowledge of the sport required, to enjoy what is sure to be a highly entertaining experience.

For more details please visit the Red Bull website here