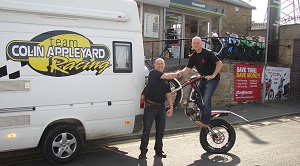 Yorkshire centre rider DAN CLARK has agreed to ride a Appleyard supported GAS GAS!
Ex superstar (and still bloody good!) and all round nice guy, Clarky collected his new RAGA Replica this week from GGHQ in Buxton. He will ride under the 'Appleyards' GG dealership with help from Kevin Feeny and also John Shirt at GGUK.
Dan would like to thank John Lampkin for his past help with Beta and just fancied a change.