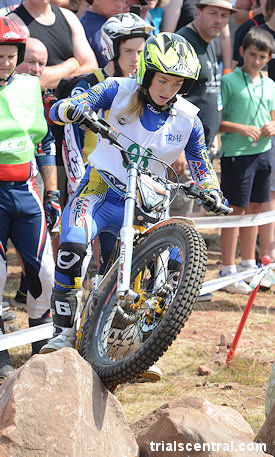 It has been a fantastic year for MRS Sherco rider Emma Bristow. After signing a full factory contract for 2013-14 Emma put her heart and soul into training out in Spain to improve her riding before the season started.
Last weekend saw the culmination of a brilliant year for her when she took the British Ladies Championship title in the Lowlands of Scotland. Emma had already won the title but in her truly professional style she still attended, knowing the organisers and spectators were expecting her appearance. She won every round of the British Championship to stamp her authority as the No. 1 UK Ladies rider.
Although none of us planned for her to do it, Emma decided to take on the task of winning the European Championship, which turned out to be a very wise decision as she won all rounds and took the title of the 2013 European Ladies Championship in Sweden on 17th August.
In the World Championship a timing technical hitch stopped her from winning both of the opening rounds in Andorra, she was back on form winning on the second day. She went to France with high expectations for what she felt she could achieve.
Although she didn't quite manage to pull off the win she was close enough to Laia Saiz to show what she will be capable of with another winter's training behind her. She eventually finished second to Saiz but she can be proud of her achievement as no one has ever been near to Saiz in the past. MRS and Sherco are confident that now she is thoroughly used to the bike she will improve even more next year.
In the SSDT she became the first ever woman to win a Special First Class award by finishing in the top 50 and, considering the talent of lady riders who have taken part in this event, that was a fantastic achievement. In the British Championship, where she competed in the British Expert Championship, the male MRS riders found themselves fighting their way through the trial, not wanting to be 'Bristowed.' Finishing in 6th place at the last round she certainly 'Bristowed' a lot of very good riders!
It is very rare to find a rider with the intelligence to see their mistakes and the dedication to put the work in to correct them, whilst at the same time listening and taking information in like a sponge. There have been many riders over the years who have talked a good training programme, Emma 'walks the talk.' She has a commitment to win, which is very rare nowadays and all young riders, both guys and girls, could learn a lot by following her example.
Commented Emma, 'I could not be more delighted to finish my year off by winning the British Ladies Championship. It followed on nicely from winning the European and finishing second in the World Championship. I feel these results are a great platform to improve next year and you can be sure I will be working hard again this winter to bring the results I believe I can achieve. I am planning on going to Spain again this winter as I can practice without any weather restrictions. It also it gives me the chance to meet up with the Sherco team of Cabestany, Tarres and Ferrer, all of whom can only help me to improve.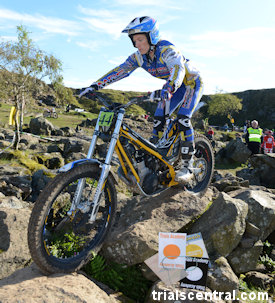 I would like to take this opportunity to thank all my sponsors including the Sherco factory and, in particular, the boss Marc Teissier, who came to support me at the World Championship. Also the UK Sherco Importers MRS who have looked after me throughout the year and have the knowledge and experience to guide me to even more success, which is invaluable to me. A big thanks also to all my other sponsors who I am so grateful have supported me and helped me this year. This is invaluable for me to be able to continue with my sport. Lastly, the biggest thanks to my boyfriend, MRS Sherco rider, James Fry who puts such total commitment into helping me achieve my dreams. A big thanks to all.
However, for me the year is not over yet as I have the Scott Trial to contend with and I am now heavily training for this event. I doubt I can get close to James, who has finished 7th for the last two years, but I aim to get a result similar to Scotland and although I know how tough this event is I am not daunted by the challenge! Roll on the 19th October and hope to see you all there.'
You can see Emma, along with all the MRS team, who will be putting on demonstrations throughout the day this Saturday, 5th October at the Sherco Open Day which takes place at Gouthwaite House Farm, Pateley Bridge, North Yorks., HG3 45AD. With MRS and all the top Sherco dealers in attendance there are 15 bikes on demonstration for testing plus the Enduro bikes, so everyone is assured of a ride. Hot and cold refreshments will be available all day, it starts at 9.00am.