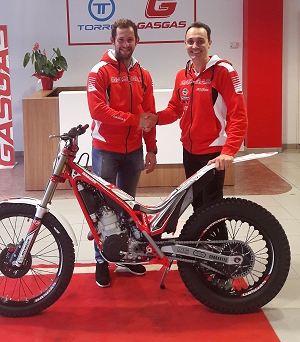 The undisputed number one on the British Trials scene, James Dabill, is to join the Gas Gas Factory FG Trial Team as official rider for the brand for the next two years where he will be taking part in three great competitions: the indoor X-Trial World Championship and the outdoor World Trial Championship, as well as the Spanish Trial Championship. Dabill's competition schedule for next year also includes prestigious international events such as the Scottish Six Days Trial and the Scott Trial.


Dabill is the reigning British Trial champion, a title he has won on seven occasions. This 30 year old rider from Yorkshire is to make his debut as an official Gas Gas rider at the Sheffield, UK Indoor Trial on the 9th of January in the UK. The newly signed rider for the Girona based company will also ride the new Gas Gas TXT300 Racing in the X-Trial World Championship which gets underway in Barcelona in February as the top rider for the brand in this international competition.


The big winning British rider has arrived at Gas Gas after having finished a great season and treasures a career full of wins. As well as his seven titles as British champion we should take note of his two victories in the SSDT (2007 & 2011) and his three triumphs in the Scott Trial (2010, 2014 & 2016). These wins are added to his Junior World and European titles that he won in 2005 in 2006 respectively.


With the signing of Dabill, ninth and seventh classified in the last Indoor and Outdoor World Championships, Gas Gas is reinforcing its world beating team in the top category of Trial after having achieved world dominance in the 2016 Trial125 and Trial2 championships, thanks to Jack Peace and Jack Price, and World Champion runner-up in the Women's Trial World Championship with Sandra Gómez.

James Dabill: "I will start by saying how excited I am to start this new adventure with Gas Gas and I really can't wait to start working with Marc Colomer –Gas Gas Sports Manager- and all the team in Girona. I am super happy that Gas Gas have put their confidence in me to be a factory rider and knowing the bike is very, very good I'm sure that we can create some great results together. It almost feels like I'm back home. All that is left to say is a BIG thank you to Manel Jané and everybody at Vertigo for giving me such an amazing opportunity and experience the last couple of years. I am forever grateful."