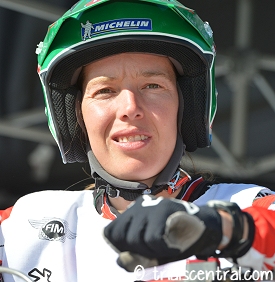 With the new Trials season now underway and former Women's trials star, Becky Cook, notable by her absence after a long presence at British and World level, the former British Champion and World No 2 has finally revealed her plans for 2017 as successes in Mountain Bike Enduro lead her in a new direction.

"For the last 13 years I have dedicated all my spare time and money towards competing at the highest level in Motorcycle Trials. With 8 British Championship titles, 2012 European Champion, 5 x vice World Champion and 7 gold medals at the Trial Des Nations I feel like its time for a new challenge. Its never been easy for me to find time and funding to ride competitively at this level and over the past few years it has become harder than ever. To mix things up a little with my training I bought a mountain bike a couple of years ago and found myself looking forward to getting out on that rather than on the trials bike. One thing led to another and I ended up trying some competitions which went really well. Before I knew it I was competing at the British Enduro Series and took the British title in the elite women's class in my first year. Much like how it all started for me in trials!

This new sport has revitalised me and given me a new challenge with some overwhelming support and encouragement which is something that has been lacking in my trials career. I will never give up trials fully as I still love riding my bike, it has given me the opportunity to travel Europe, make amazing friends and meet my husband! But now I need to take this opportunity and put 100% into the 2017 Enduro World Series and see what I'm capable of.

I'd like to thank TRS UK for their support and understanding, when I ride at chosen events I will still be aboard the popular TRS machines. And all the sponsors who have helped me over the years and all the trials girls for the memories! Thank you as well to my husband Craig for his understanding and backing in whatever I do."
A look back from the TC Archives