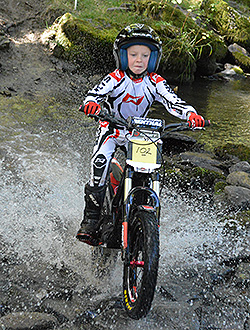 Earlier in the year Hafod – Y – Garreg near Glyn Ceriog saw several of the starter sections of 2014 adult lomax trial. Sunday 7th September saw the venue host the 3rd round of the LL&DC conducted championship. In great conditions there was no avoiding the water as the sections weaved in and out of the stream with crossings, banks and rocks. As the trial continued the sections got slipperier and more challenging especially for the red / hard route. Even the white beginner route got in on the act with a stream section of their own.
On the white route 3rd place went to Bryn Jones in his first ever trial on 24, 2nd was Rhys Gelder on 8 and 1st was Joe Chard on 6 marks. All riders were ever improving from the start of the year.
4th Jess Widdowson on 25
5th Liam Campbell on 31
6th Ewan Edwards on 43
The Yellow route course saw some parts which were classed as red in 2013 which shows these youngest are continuing to improve year on year. 3rd was Dan Jones on 20 (picture attached), 2nd was young Dylan Hayes on 16 and runaway winner was Aaron Chadwick on 6.
4th was Steffan Jones on 23
5th Alex Gelder on 24
6th Alistar Edwards on 36
The red / Hard route lads were fresh from the C & D Class British Nationals the week previous in Richmond, 6 of the hardest sections the club have put out for the conducted awaited them, showing its not just the riders who are improving but the club too on providing sections to test their ability. C Class red route winner on 52 was Ryan Shepherd.
Red route D Class riders were the closest it's ever been, with each section the leader of the trial changed. 4th on 71 was Jenson Jones, 3rd was Charlie Crossland on 48, piping his team mate by 2 marks was Morgan Shepherd on 46, and in 1st on 38 was Lewis Hurdsman who knuckled down in the last section to take the win.
Rider of the day sponsored by TCRM Motors Ltd was Corey Shepherd who choose LL&DC to be his first ever trial, aged just 4 on the smallest bike at the event his 12.5 Oset.
Thanks to all observers and all who attended.