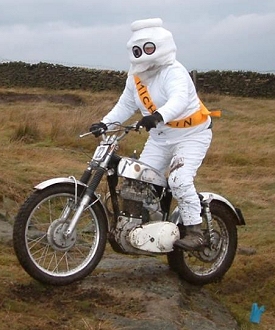 Ady Michelin Image: Barry PickardAfter the excesses of Christmas what was needed was a gentle run out across rough pastures up the hill from Glusburn, North Yorkshire. Four trusty Yorkshire Classic souls set forth and provided just what was needed.
Star of the day was Ady Brayshaw in his Michelin Man outfit walking away with the best festive outfit of the day. Unfortunately the headgear restricted vision and had to be modified to avoid problems after the first lap. Well done for getting into the spirit of the event.
Of the 35 entries four riders glided round the single route course without dropping a mark. Top credit goes to young Jack Butterworth on his rebuilt big Triumph twin with older brother Ben also went clear trying out his grandad's Cub with his Ariel undergoing a rebuild.
Top performer Tony Calvert was as expected clean together with Nottinghamshire's Brent Cordon on a lightweight Bantam making up the foursome.
Andy Webbe on his rigid Matchless and Mick Clarke on his trusty springer Ariel were the best of the rest losing only 2 with the lightweights close behind.
Biggest mark taker of the day was section 8, a climb up the wheel tracks left by the 4 x 4 brigade with a couple of nasty lumps causing the trouble.
A good day with the weather being kind and nearly £100 in donations for the club's charities, The Yorkshire Air Ambulance and Manorlands Hospice.
Next event –1st Jan - New Year's Day Charity trial for the Norman Pickles Trophy – Lord Lane, Haworth – NOTE : 11am start