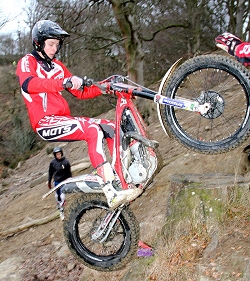 At the weekend we had our local Manchester 17 MCC Fisher Cup Trial close to the Gas Gas UK HQ. Big congratulations to the club because they had a 120+ entry and all enjoyed themselves. Two JST GGUK Team mates Dan Thorpe and Richard Timperley had good rides finishing 2nd and 3rd but in all honesty were spanked by the winner Ross Danby.
Young pup Sam Yeomans (Kelcoat JSTGG) also rode well finishing 6th. GG rider Darren Wasley won the 50/50 route.
There was also a Scarborough and District event on also with a bumper entry from a Club that are known for organising good hard events for all classes. JSTGGUK rider Dan Peace had a result worth a BIG mention because he beat (actually thrashed) some established top riders as you can see by the results (attached)
Both Dan and his brother Jack are pushing hard at the moment and Dan is ready for his year of adult BTC and World Cup Class WTC which he is desperate for some financial help to allow him to compete at World level. This lad has a big future if he keeps grafting and 'keeps his head', which im sure he will. The WTC is a whole different level and will be difficult for him in his first big learning year.
Thanks to John Watson for the pic of Dan.