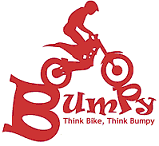 2015 ACU OSET BRITISH SOLO B, C & D YOUTH TRIALS CHAMPIONSHIP ROUND 1 BUMPY LTD JULIA MORRIS TRIAL, 21st February 2015
See attached Entry List.
Please note the following changes from the original Regs:
Signing on has been brought forward opening at 8.30am
Start time has now been brought forward to 10.00 am to accommodate the large entry
The course has now been altered to 3 laps of 12 sections (Classes B,C & D Med Wheel) and 3 laps of 10 sections (D Class Small Wheel)
Also after contact from our ACU Steward please note the following alterations:
ALL bikes (including Electric) must have Lanyard Cut-Out Switches
The Scrutineer is now called the Machine Examiner
Rider number 17 on the Blue Route (C Class Std Wheels) has been moved into the correct class. This means all Red Route (B Class) riders start 1 minute later than first published
Riders must now sign on BEFORE Machine Examination. Once bikes have been checked and passed they will be held in the Parc Ferme.
Please also be aware that after the recent snow, freezing conditions and subsequent thaw the ground conditions are quite sticky and muddy. We have made every effort to avoid the really bad bits but please make sure that bikes are prepared for this. We strongly recommend that you use spacers to lift the front mudguard if you haven t already done this.