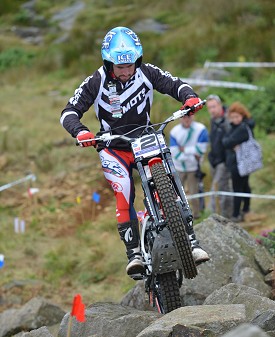 2015 will see James Dabill on a new steed in the form of the Vertigo, but can he defend his 2014 title?The ACU - RT Keedwell Group British Adult and Youth A Solo Trials Championship 2015 is now only a few weeks away and it is looking as if it could be a cracker. The number of rounds has increased from seven to nine but three of the weekends are now double headers. This worked really well last year with the two Devon rounds being on the same weekend cutting down on travel costs.
Last year's series was won by James Dabill who has now changed over from Beta to the new Vertigo machine. The multi times British Champion will be keen to start his National campaign off well having been beaten by his chief rival Michael Brown in last year's season opener. Most would see it as being likely that these two will again be making the front running but there is a whole host of top riders (26 in total) having registered for the series including last years top 10 finishers Alexz Wigg, Jack Sheppard, Ross Danby, Sam Haslam, Sam Connor, Andy Chilton, Iwan Roberts and Richard Sadler.
Alexz and Ross are the only two riders to have stood on the top step of the podium besides Dabill and Brown during the past 3 seasons which shows the enormity of the task facing the other title contenders.
New riders to the Championship include Beta teamster Jorge Casales (entered already for Round 1) and last year's top youth competitor Dan Peace. Returning also is Gary Macdonald who has been training hard in his hometown at Kinlochleven. Casales is an interesting addition to the series. We have previously had Yrjo Vesterinen and Adam Raga contest the Brits so the young Italian Jorge could be an interesting wildcard.
In the Expert class the winner was Guy Kendrew who won every single one of the rounds which must surely be a record that will take some matching. Competition will be stiff in 2015 and with new people coming into the class retaining the crown will be every bit as tough as winning it in 2014. Not only that but the Youth A class is now incorporated into the series. In addition two B class riders have been authorised to ride. Toby Martyn and Jack Peace.
So when and where to see this year's action
Round 1 21st March, Hook Woods Trials Centre Post code KT24 6EA
Round 2 22nd March, Butser Limeworks, Petersfield GU31 5SW
Round 3 18th April, Anthony Rew Devon TQ13 9SW
Round 4 19th April, Anthony Rew TQ13 9SW
Round 5 17th May, St David's Aberdulais SA10 8HR
Round 6 24th May, The Scarborough Trial Harwood Dale YO13 0LA
Round 7 1st August Bob MacGregor Trials Academy Dunlop KA3 4EH
Round 8 2nd August Bob MacGregor T/A KA3 4EH
Round 9 30th August John Hardaker Whitby YO21 2PS
Full previews of each event will be available closer to each of the respective dates but each of the rounds will start at 9.30 am with an overall time allowance of 6 hours (3 hours for Lap 1).