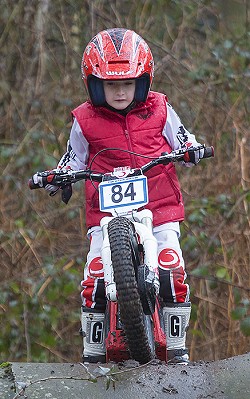 Jenson Jones Expert WinnerRound one of the 2015, 2 Machs Motorcycles, OSET Cheshire Cup got off to a great start. Another record entry of 53 rolled into the Alvanley Trials ground near Frodsham, Cheshire. When marking the sections out Saturday's weather had been fantastic, the ground dry and grippy. Sunday morning dawned and things were a different story altogether. Rain lashed down and once under use the sections turned to a mudbath. It was a testament to the determination of the riders that very few retirements were seen.
Jenson Jones had a fabulous ride to win the Expert route on just 33 marks. Dan Jones' run of good form continued as he took second on 54 marks, ahead of Aaron Chadwick just 5 marks further back. Reigning hard route champ Steffan Jones showed that the step up to Expert wasn't fazing him to finish on 60 marks.
Dylan Hayes, the only rider on a small-wheeled bike to take on the Expert route, suffered the most with his machine in the wet conditions. Jack Long, came all the way down from Cumbria and wasn't disappointed, winning the youth C inters class on 39 marks. Followed by series regular Archie Hollingsworth, who is adapting well after upgrading to the OSET 20 during the winter. Gethin Beech-Jones followed in third place in only his second ever trial.
Ellie Molyneux had obviously been putting in some practice hours on her OSET 20 Lite, winning the C class novices and looking like a new rider! Harvey Davis a newcomer to the series and riding in his first trial took the class D Inter win - surely a name to watch for the future. Jeremy Titley had an outstanding ride, to finish in second place in this tough class with the smaller wheeled 16 Racing. Joe Powell finished in third showing some true grit in difficult conditions in just his second trial in the harder route. Alfie Hoyles followed in fourth place, a good result after stepping up to a 20 at Christmas.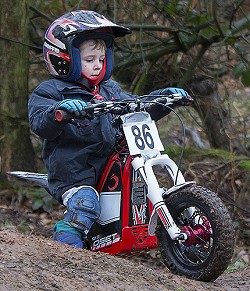 Harry JordanDoing it for the girls, Molly Barber took her first ever win in the D class novice route, her smooth throttle action finding grip where others couldn't. Jess Widdowson just two points further down showed the boys that restraint with the throttle was a winning formula given the slippery conditions. William Sagar followed 10 marks further down with a good solid ride. Ever improving Ewan White had a great ride to finish in fourth place.
Other notable rides were Charlie Skehan having a great day in 5th place and Harry Willbourn in 7th in his first ride of 2015. Kennie Brierley, a lad who clearly loves riding motorbikes, didn't stop smiling and showed some great control to win the E class novices on 60 marks. Jobe Griffiths and Aaron Makin, both in their first ever trials, drew on 84 marks with Jobe taking second place.
Round 2 takes place on April 19th on the grassy banks of Frodsham Caves.
Images courtesy of Andy Findlay