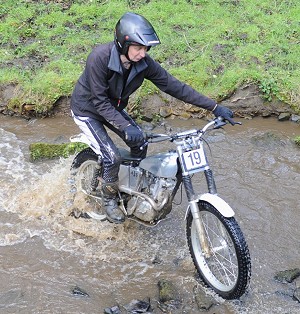 Andrew ScottFresh from his success on the Pre-65 Scottish, Yrjo Vesterinen continued his fine form at Red Rose Classic MCC's trial at Catlow Ford, Nelson. The former World Trials Champion won the Nick Nichols Trophy in Scotland, awarded to the best over-60 rider in the event and Vesty topped the results sheets this weekend after dropping just four marks after four laps of ten sections at the popular stream-lined venue.
He was closely followed by Andrew Scott, also on a Tiger Cub, who matched him all the way and was tied on four marks, only missing out on the Oldest Rider rule. Steve Thomas and John Maxfield, who was also in action at Kinlochleven, were joint third on ten marks, with Thomas getting the verdict on the OR rule.

In the classes, Tim Baker had it all his own way as the sole entrant in class A on his Ariel.

Maurice Brayford and his DOT claimed class Ce on nine marks, one ahead of Mick Dickinson's Bantam and nine clear of third-placed Peter McCawley (James).
Eric Atkinson and his trusty Ambassador had a clear run to class D on 59 marks - once Paul Harrison's James had retired.

Dave Ingram was the winner in a busy Class T, the Honda rider pipping Lee Sagar and his Fantic by two marks, the riders scoring 19 and 21 respectively.

Mal Cocking and his Montesa claimed third on 27.

The battle for class Te was just a close, with Paul Wilson (Fantic) edging out Gary Mitchell (Kawasaki) and Darren Soothill on another Fantic.

The club would like to thank the clerks of the course, Andrew Sharp and Andrew Scott and all the observers.

Red Rose's next event is the National Twinshock Championship round on Saturday, June 6, at Feniscowles, near Blackburn.

The club are looking for observers for the event, and anyone who can help is asked to contact Pete Kenyon, tel 01282 613063.
Results
Class A: Tim Baker (Ariel) 50.
Class C: Yrjo Vesterinen (Cub) 4, Andrew Scott (Cub) 4, Steve Thomas (Bantam) 10.
Class Ce: Mauric Brayford (DOT) 9, Mick Dickinson (Bantam) 10, Peter McCawley (James) 19.
Class D: Eric Atkinson (Ambassador) 59.
Class T: Dave Ingram (Honda) 19, Lee Sagar (Fantic) 21, Malcolm Cocking (Montesa) 27
Class Te: Paul Wilson (Fantic) 18, Gary Mitchell (Kawasaki) 21,Darren Soothill (Fantic) 23.