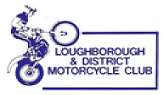 Saturday and Sunday 22nd and 23rd of August is the Loughborough trials clubs big weekend of the year as it once again runs its two day Susan Harris memorial charity trial. In its forth year and with nearly £5000 already raised for mainly cancer or local Leicestershire charities the club is running its tested formula of a fun event Saturday afternoon starting at 3pm with the memorial trial on Sunday setting off at 10:30 and for the keen campers an overnight social in between.
The event takes place at the Vickers farm and Riley's railway venues near Tilton on the Hill Leicestershire with the Sunday being two long laps of twenty sections.
Anyone is welcome to ride and the club is hoping for a bumper turnout to swell the charity coffers this year.