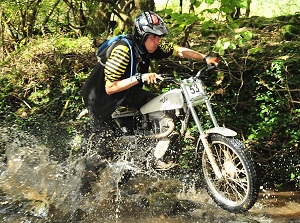 Tim Hartshorne splashes his way to victory in the Pre Unit Expert ClassRed Rose Classic MCC hosted the final round of the Northern British Bike Championship – and were rewarded with an excellent entry of over 80 riders. The Lancashire-based club put on a compact nine-mile route containing 30 sections, which included some old favourites such as Catlow Ford, Float Bridge and Stoney Raike, and a new venue, Shooters Wood.
Despite heavy rain ahead of Sunday's event, the team of course plotters, led by Andrew Scott, did a great job in creating sections that would be rideable in the slippery conditions and appeal to both eased and normal route competitors.
In class one, for Pre-Unit Rigids, Garry Shaw (Triumph) dropped just 12 marks to take the win ahead of Andrew Webbe (Norton 16H) and Gary Marshall (TRW Triumph).
It was an all-Ariel affair in class two, for Pre-Unit Clubman, with Carl Winstanley taking a narrow victory over Phil Clarkson by two marks.
Stephen Cordon and his James 197 topped class three, for Vintage Two-Stroke, with Terry Raw (James 250) taking second and Shaun Brown (Francis Barnett 197) third.
The popular Clubman class (eased route) saw Ossy Byers (DOT 250) tieing with Mick Whitlow (Cub 200) on four marks each, but Byers got the verdict in the 'furthest clean' rule after Whitlow took a single dab on section three at Float Bridge. David Pattison (Cub 200) completed the top three with a final score of 11.
Tim Hartshorne and his AJS 18CS saw off competition from Richard Allen (Ariel 500) and Kev Ellis (Goldstar 500) to clinch class five, Pre-Unit Expert (normal route).
Former Scottish Pre-65 winner Paul Heys was on home territory for the event – and it showed. The Rawtenstall-based rider won class six, Unit Expert (normal route) on his Cub 250, well clear of Dave Ingram (BSA C15) and Tony Dillon (Cub 200).
Chris Gascoigne's excellent ride for the loss of just seven marks was enough to take class seven, Two Stroke Expert (normal route), on his Francis Barnett 250. John Hamblin (James 250) finished second 22 marks adrift with Russ Jones (Francis Barnett 250) in third.
Michael Dorricott (Triumph 250) had a clear run in class 8 for Specials (normal route), with the retirement of the only other rider in the category, Robert Moore.
Red Rose Classic MCC would like to thank the course plotters, the observers and the landowners.