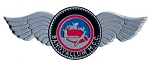 Banovallum Mcc held The Don Winter Trial at South Thoresby Quarry with a great turnout of 54 riders. Local girl and the ladies world Champ Emma Bristow was victorious on the hard route taking the win over Tom Ablewhite, Emma losing 11 to Tom's 19.
On the middle route Paul Shaw rode clean all day to beat Chris Traves by just a single dab.
Tim Bristow was the only rider to complete the 50/50 route losing a total of 23 with the other riders retiring.
Bob Chapman rode well on the white route losing 13 marks with Kim Waters in 2nd place on 14.
A big thanks goes to the Observers for there continued support and also to the course plotters and officials for there help.
Our next trial is The G L Clarke Trial at North Ormsby on Sunday 4th March 2018. The trial will start at 10.30am.