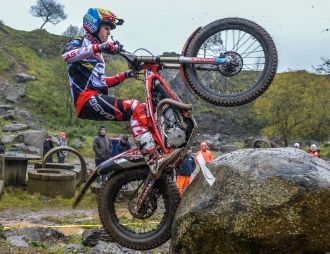 He may have had to surrender his British Trials Champion title to James Dabill - Beta, but Jack Price - Gas Gas ended the season on a positive note with victory at the eighth and final round of the 2018 RT Keedwell sponsored ACU British Trials Championship, held at the Bob Macgregor Trials Academy in Ayrshire, Scotland on 21st October.
Following the opening day's hiccup that saw him record his worst result of the season, Price bounced back to dominate the event from the outset. With new Champion, Dabill having a prior commitment with the Beta factory in Italy, it was down to the day one winner Toby Martyn - Montesa and day one runner-up, Jack Peace - Gas Gas to put up the challenge, but neither had an answer to Price's scores of four, two and three respectively over the three laps of twelve sections. Second best on the day went to Martyn on thirteen, four behind Price's nine with Peace finishing on twenty four to secure third place.
Despite having secured the Experts title with a round to spare, there was no relaxing for Richard Sadler - Beta as he clocked up his fourth win of the season by an eighteen point margin over Sam Yeomans - Gas Gas with Chris Stay - TRS making the long trip from the Isle of Wight worthwhile by taking the remaining podium position. The season ends with Sadler Expert Champion, Guy Kendrew - Beta in the runner-up spot and Luke Walker - Sherco completing the top three.
As expected, Mitch Brightmore - Gas Gas, who just had to finish the event to take the Youth Elite title, made it six victories from eight starts by a twenty four point margin over Bret Harbud - Beta with Gus Oblien finishing third. The youth Elite Class finishes with Brithmore Champion, Oblien second and Harbud third.
pdf Download Round 8 All Class Results (83 KB)
All Series Results & Final Championship Standings
Our thanks again to David & Elizabeth Willoughby for the fast results service all season.