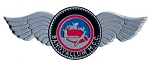 On a gorgeous sunny Sunday morning at Welton le Marsh quarry Phil Marris(31) took the win on the Expert route from Ben Butler(61)in second place and Andrew Marris(67) in third.
Dave Hunt(24)has a great ride on the Middle route beating Tiff Nutbrown(38) in to first place and Callum Hedison(40) coming third.
Steve Dent(58) took the win on a challenging 50/50 route with Gwyn Hanson(61) in second and Kim Waters(71) in third.
On the White route Andrew Frith(7) was champ in front of Gavin Sanderson(16) and Ian Bruntlett(17) in third.
Thanks to the observers,course plotters and officials. Our next trial is on Sunday 13th October at Withcall.