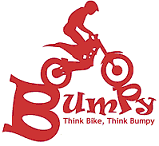 Saturday 14th December was the 5th Julian Ford Memorial Trial run by BUMPY. In ever changing weather conditions including sun, rain, wind and sleet; Veteran Dan Thorpe (JST Gas Gas UK) took the win on 3 marks from the impressive 14 year old Harry Turner (Gas Gas) on 8. Sherco mounted Joe Spivey rode well to beat Splatshop boss Chris Pearson on his new Electric Motion bike on 19 and 25 marks lost respectively. Another impressive Youth rider Elliot Laws (180 Vertigo) rounded up the Top 5 narrowly losing the most cleans tie-break with Pearson.
Joe Smith (Montesa) took the 50/50 win on 42 from Martyn Pratt (Beta) on 60 marks lost.
The Clubman route was the best-supported category with the sloppy conditions taking quite a few marks. Vertigo rider took the win on 13 marks lost, Mark Butler (Fantic) was second on 30 pipping Oset Legend DJ Si Armstrong (Gas Gas) on most cleans. Top Youth rider Will Smith (Beta) was next on 33.
George (of the jungle) Hought took the Easy Route win on 5 marks lost. Ged Fallon (TRS) 9 and Andrew Kershaw (Montesa) 12 completed the podium. Tommy Hutchinson (Beta) had a fantastic ride in his first trial to be 1st Youth on 35 marks lost.
Thank you to everyone who supported the event, especially the Observers who braved the horrific conditions. BUMPY wish everyone a Merry Christmas and best wishes for 2020.