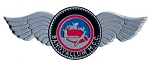 On Sunday 26th January Banovallum MCC held The Don Winter Trial at South Thoresby Quarry near Alford. With rain forecast for the afternoon at 2pm the 50 riders were on a mission to get 5 laps finished and at 2pm on the dot it started to rain !!!
Andrew Marris(66) took the win on the hard route with Paul Marwood(69) in second spot and Mark Hawkins(101) in third.
On the middle route Callum Hedison(9) was the champ beating Catherine Alford(13) into second place and Dave Hunt(21) in third'
Stuart Alford(16) took the win on the 50/50 route, Bill Wraight(30) in second and Kevin Witting(36) in third.
On the easy route Kim Waters, Jeremy Newbury and John Hamblin all rode clean.
A big thanks as always goes to the observers,course plotters and officials for their continued work.
Our next trial is on Sunday 23rd February at North Ormsby near Louth.