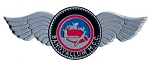 On Sunday 23rd February Banovallum Mcc held the G L Clarke trial at North Ormsby near Louth. With the weather forecast not looking great the sections were set accordingly and the 52 riders had some great sections to go at.
MikeEvans(6) won the battle for top spot on the Hard route from Tom Ablewhite(11) with Andrew Marris(18) in third place.
Chris Traves(1) took the win on the Middle route with Pete Boast(5) and Dave Hunt(5) but Pete went the furthest clean.
Matt Mison (0) went clean on the 50/50 route from Bill Wraight(6) in 2nd and Andy Jackson(12) in 3rd place.
On the White route Mick Kirk, John Hamblin, Tyler Atkinson and Steve Gossop all went clean.
A big thanks go to the observers who braved the chilly strong wind to watch you all ride and also thanks to the course plotters and officials for there continued hard work.
Our next trial is on Sunday 5th April at South Thoresby Quarry near Alford.