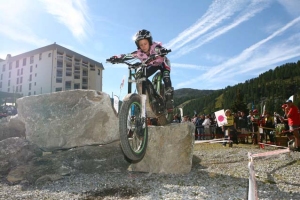 Laia Sanz – Montesa will bid to secure a record extending and incredible thirteenth FIM Women's Trial World Championship when she competes in La Chatre, France tomorrow in what will be the closing round of this year's series. Sanz has only once failed to win this championship since it was introduced back in 2000, her only defeat being to Iris Kramer in 2007. However Laia has not made her title defence easy this year with her having missed the opening two day event in Andorra due to her opting to contest a round of the 2013 Maxxis FIM Women's Enduro World Cup instead. Her return to the Trial paddock last weekend proved to be a triumphant homecoming, as Sanz won both days of the event in Isola 2000 to set up a winner takes all final showdown.

Britain's Emma Bristow – Sherco currently heads the general standings, which take into account the best three results achieved by each rider, it is this round dropping process that has allowed Sanz to remain in the title hunt. Bristow has recorded one win so far this season, that coming on the second day in Andorra, alongside her single victory Emma has also notched up three runners-up places, the last two of these being behind Laia last weekend. Although yet to beat Sanz, Bristow remains the reigning champion's biggest threat and confirmed this as she matched her Spanish counterpart during the latter stages of both days in Isola 2000.

Early series leader and having finished as runner-up in the championship to Laia on three previous occasions, Rebekah Cook – Beta cannot be discounted from the title race and may just be on hand to pick up the pieces if the two more favoured protagonists should fall short due to pressure during tomorrow's competition. Cook won the opening day in Andorra and was then second behind Bristow the following day. Her two third places in France last weekend see Rebekah sit just two points shy of Emma before they go into battle one final time this season.

Sandra Gomez – Ossa will have to show her full potential in La Chatre if she is to maintain her current third spot in the points table. Her sixth place last time out is not something she can afford again if she is to hold onto the number three plate that she secured for the first time last year. Gomez has the close attention of Katy Sunter – Gas Gas in the scrabble to gain the last medal position, with the experienced British rider currently enjoying her best campaign to date. Two career best fourth places, one in Andorra and the other last weekend in Isola 2000, see Sunter hold fourth spot overall ahead of tomorrow's showdown.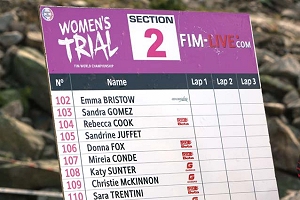 Spanish compatriots Mireia Conde – Beta and Sanz hold fifth and sixth positions in the current general standings, although Sanz's placing does not tell the full story due to her early season absence. Conde has been a model of consistency over the four counting days to date, with her three-fifth places and one-seventh spot netting her a total of forty-two points. Mireia's previous best overall finish in the series was seventh on two occasions, so she remains on course for her best campaign ever if she can maintain her form tomorrow.

France's Marilyne Journet – Beta finds herself in a similar position of recording her best ever finish in the championship if all goes to plan at her second home GP in as many weeks. Theresa Bauml - Ossa, Nikita Smith – Gas Gas and Italy's Sara Trentini – Beta are the three riders who currently round out the all important overall top ten respectively with little difference in the points from tenth to seventh, and all still to play for in what is sure to be a dramatic finale to the 2013 FIM Women's Trial World Championship in La Chatre tomorrow.