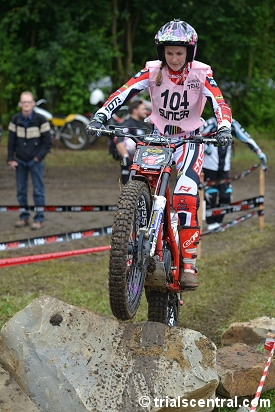 Katy Sunter – Gas Gas who will celebrate her thirtieth birthday later this month is coming of age and is now ready to make her mark on the FIM Women's Trial World Championship when the series arrives in Spain this weekend. Sunter who was born in the birth place of Trial, namely Great Britain, enjoyed her best ever campaign in 2013 when she placed fifth in the final rankings six years after she first joined the series. Now Sunter believes she can go even better this year thanks to her newfound confidence, as Katy explained.

"I suppose the biggest difference this year is that I believe in myself, which is much due to what I managed to achieve last year. I feel that I have finally grown up, which is perhaps a good thing as I am about to reach thirty, and realise that even though my results in previous years have not been the best, when I have looked back at the scores it shows that I was actually never too far away from the girls who were in front of me and who were often on the podium."

Sunter originates from North Yorkshire, an area well known for its rugged Trial terrain, and comes from a true motorcycling family with her two brothers and father also being notable Trial riders. Brought up during the original no-stop era, Katy is just one of the female riders who feels that she has benefitted from the sport returning to its more traditional roots with the recent reintroduction of no-stop rules as she was happy to talk about.
"Obviously I was pleased to see the return of no-stop to Trial. I learnt to ride no-stop originally, it was all I knew and was the same style of riding that my father had always ridden. It was the most natural form of Trial for me, and living and training where I do the terrain is very suited to no-stop. As my father had never ridden stop rules I had to teach myself those techniques, so it was never my most favourite form of riding. The return of no-stop has certainly helped me now be closer to the other girls."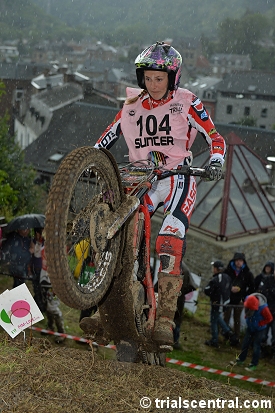 Both new rules and a new approach last season and at the opening round of the 2014 FIM Women's Trial World Championship have seen Sunter produce her best results to date. "My concentration is much better and I feel that I am more focussed during each competition. My strategy now is to really make sure on the sections where I know I can get a good score and then just make sure that I get through the more difficult sections, that way I can challenge the other top girls."

Sunter uses two of what are still regarded as the toughest Trial competitions on the planet, away from the FIM Trial Championship proper, as an important part of her training regime, as she explained. "The Scottish Six Days Trial in May and the Scott time and observation Trial in October are perfectly dated at each end of the year for me to use them as a good focus for my training. Both are ultra tough events, where my aim is just to make it to the finish."

Switching her attention back to the 2014 FIM Women's Trial World Championship, Katy has higher aims than just finishing as she spoke about with a new belief. "With Laia (Sanz) sadly not part of this year's championship, all of us girls have a new chance to do better. Emma (Bristow) is perhaps riding at too higher level to be beaten this year, but can still make mistakes on the day, but other than her I feel all the other girls can be beaten. I need to at least be in the top five again come the end of the year, although I would love to be in the top three really, and I know to do that I will need to be on the podium at least once in Spain this weekend."