Britain's Rebekah Cook (Talbot) – Beta has kept the fight for the 2014 FIM Women's Trial World Championship very much alive as she won the second day of the Spanish Grand Prix by a single mark from her compatriot and series leader Emma Bristow – Sherco. Bristow looked favourite for the victory and to wrap up the series with three wins from three starts, but will now have to wait until next Friday's closing event in Andorra to see if she will finally become the queen of Trial. As in previous years, the 204 FIM Women's Trial World Championship will be decided on the best three results from four counting days over three rounds. This was Cook's second ever GP win, her first being in Andorra in 2013.
Theresa Bauml – Ossa was today's final podium finisher as she placed a close third. This was the young German rider's third career best result in a row and immediately upstaged the previous best fifth place she recorded yesterday. A mere five marks separated the top three female riders after three laps of nine sections, which were once again ridden in hot and dusty conditions. Section five was omitted from today's Trial in order to reduce the overall length of the course and the time issues that had played a major part during Saturday's competition.
With the pressure perhaps resting heavily on Bristow's shoulders it was Cook and a very surprised Ina Wilde – Gas who made the early running. The British / German duo both completed their opening lap for the loss of nine marks. Ina dropped three threes in sections five, six and eight, whilst Rebekah parted with a two, five and one, her final mark being on the man-made hazard located in the newly built local bull ring. Wilde was unfortunately unable to repeat her performance over the closing two laps and ended her day down in sixth. At the close of lap one Bristow found herself down in fifth place on thirteen marks.
Behind the initial leaders Cook and Wilde, next up was Sandra Gomez – Ossa on ten marks, Mireia Conde – Beta on eleven and Maria Giro – Beta on twelve. With work to do Bristow began to ride herself back into contention as she posted the equal best second lap score of six along with Cook and Bauml. This set up a dramatic last lap shootout between the top five female riders with just five marks splitting these five potential winners as they headed out to ride the closing nine sections.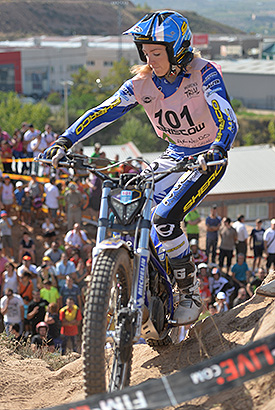 The searing afternoon heat added to the occasion as the rising temperatures and tension were equal to each other.
Cook was the only one in the front group with any level of comfort having fifteen marks whilst Bristow, Bauml and Gomez were all tied on nineteen and with Conde just one mark further back on twenty. Rebekah held her nerve well to deliver another solid lap and despite Emma's best lap of the Trial when she parted with just three marks, Cook had done enough to hold on to the victory and more importantly to keep the title fight alive.
Behind Cook, Bristow and Bauml, it was Conde who was to finally snatch fourth position as she demoted her Spanish compatriot Gomez down into fifth. Wilde and Giro were in contention for a top five placing all day, but eventually had to settle for sixth and seventh respectively. Elisabet Solera – Gas, Katy Sunter – Gas Gas and France's Pauline Masanes – Gas Gas rounded out today's top ten.
So whilst Bristow leads Cook by ten points heading to next Friday's deciding round in Andorra, the title fight is actually closer than it may appear when the best three results process comes into play. Another win for Cook in Andorra, where she won the opening day next year would see her match Bristow's best three scores and then the title would all come down to the best result at the last round, which would then fall in Cook's favour. So the 2014 FIM Women's Trial World Championship is very much alive and up for grabs.
Final Women's Results
1. Rebekah Cook (Talbot) - 21
2. Emma Bristow - 22
3. Theresa Bauml - 27
4. Mireia Conde - 31
5. Sandra Gomez - 33
6. Ina Wilde - 37
7. Maria Giro - 38
8. Elisabet Solera - 40
9. Katy Sunter - 47
10. Pauline Masanes - 48
11. Jess Bown - 51
12. Berta Abellan - 54
13. Sara Trentini - 56
14. Sarah Bauer - 60
15. Chloe Richardson - 62
Photo Coverage
All photos are our own and will not be seen anywhere else. As this is a joint event for women and men, both galleries are combined into one.
Free Public Photos (12)
Trials Central Supporters Photo Coverage (165) - Supporters images are high resolution and carry no watermarks