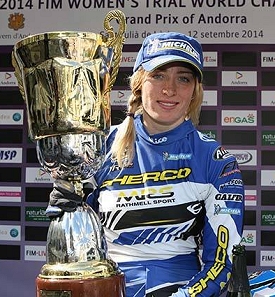 Sherco importers, Malcolm Rathmell Sport, are delighted to announce that their rider Emma Bristow is now the 2014 FIM Ladies World Trials Champion. This follows on from winning the 2014 Ladies Indoor World Extreme Enduro Championship earlier this year; in her very first year of riding an Enduro bike and plus the 2014 Ladies British Trials Championship which she won recently also.
After her ride in Spain the week before, which was disappointing by her own high standards, Rhoda and Malcolm Rathmell travelled to Andorra to support Emma and James in their attempt to win the one title so dear to her heart. It was just the boost she needed and you could say it was a full team effort from Sherco. Not only the Rathmells' but Albert Cabestany rode the whole course with her, along with top Sherco technician, Josep Paxau. Paxau is always the first to recognise a rider who is determined and prepared to work for their dreams, as such he was always going to be at her side for this important day.
With only three of the four rounds counting it was a nail-biting occasion and Emma knew she had to throw down the gauntlet and take the event by the scruff of its neck. This she did with brilliant effect, leaving all opposition in her wake as she pulled off a very clear win over her nearest rivals.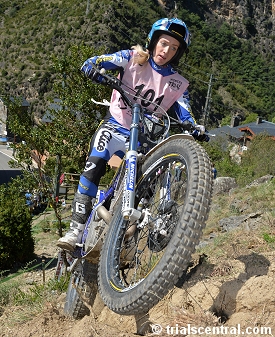 Emma Bristow - "I was over the moon to be able to bring home the Ladies Indoor Extreme Enduro World Championship for Sherco in my first attempt but my one aim in life has always been to lift the Ladies Trials World crown. It has been something I have put my heart and soul into winning for so long now it still feels like a dream come true. It's just hard to really take it in but I'm sure in time I will!!
I would like to take this opportunity of thanking all the people who have helped me achieve this success and in particular the Sherco factory, Malcolm and Rhoda Rathmell from MRS, Albert Cabestany, Josep Paxau, Michelin, Clice, Airoh, Gaerne and Galfer.
Lastly, it goes without saying that the tireless efforts of my boyfriend James and my mum and dad who have been such a support to me throughout my riding career. I am just so happy that I have been able to reward all these people who have worked with me as a team to achieve the title - thank you so much."
Images: G2F Media/Trials Central