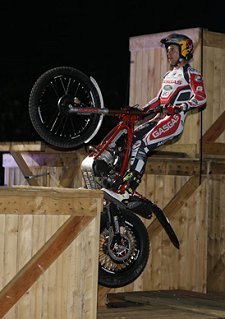 A fantastic performance by Adam Raga, the official rider of the Gas Gas Team in the last round of the World X-Trial Championship which was held in the capital of the French Riviera, Nice, saw him achieve the desired final season result: the runner-up spot. The Palais Nikaia was filled to capacity to see the best in the world, where today the pressure was very much on the Gas Gas rider, who finished in second position in the previous round with his aim to take the top podium position at the final outing of the season. However, it was reigning Champion Toni Bou who was again to take home the spoils. A small mistake in the last zone of ​​the semi-final, where he scored three points, prevented Raga from finishing with less points than Bou.

Five years later, Adam Raga has returned to claim the runner-up in the World Indoor Championship, now known as X-Trial and he has done it after overcoming a poor finish in the season that opened in Sheffield (UK), where he finished seventh. Subsequently, he claimed second place in Barcelona, Bielefeld Germany and finally in Nice, which confirmed him in second position for the championship. Notably also at this race was the excellent fifth place for the second Gas Gas rider participating in this World Championship, the Italian Matteo Grattarola who has overtaken much more experienced riders and has won the sixth place in the final positions in the championship.

The next competition test for Adam Raga will be the start of the Outdoor World Trials Championship later this month in Motegi, Japan, on the 27th and 28th of April.


ADAM RAGA "I have seen victory close-up today. I've done well with the bike and I'm proud of the work we have done and everything from the team to improve the outcome of Malaga. Everyone has played their part and this is appreciated. For my part, again finishing second in the world, is like a 31st birthday gift. I was ready to win, I made a single mistake in the last zone, of a very high level, I've done better than anyone, with a zero, but to win against Toni Bou, I have to ride very, very well. I value very highly this second position, I had highs and lows in this championship and I've also learned to be calm when things go wrong. Climbing from seventh in Sheffield was very complicated, and has much merit that we are now celebrating the runner-up. Furthermore, in order to start the World Championship in Japan in a fortnight, is very motivating. "

2013 X-Trial Championship Final Standings

| | | |
| --- | --- | --- |
| 1. | Toni BOU | 80 points |
| 2. | Adam RAGA (Gas Gas) | 43 points |
| 3. | Albert CABESTANY | 42 points |
| 4. | Jeroni FAJARDO | 39 points |
| 5. | Takahisa FUJINAMI | 34 points |
| 8. | Matteo GRATTAROLA (Gas Gas) | 13 points |
| 10. | Francesc MORET (Gas Gas) | 4 points |