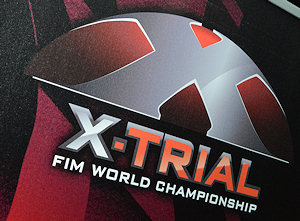 With under four weeks until the world's best Trial riders hit UK shores for the famous Sheffield Indoor Trial, further news is emerging as to what spectators can expect at this must-see event in the Trials calendar...
The Flavour of Sheffield
Martin Lampkin has built a gigantic new section using the casting moulds that have produced some of largest iron ingots the world has ever seen. CW Booth from Sheffield have loaned Martin the castings weighing in at over 10 tons each and other steel making equipment to form this spectacular section titled The Flavour of Sheffield.
In addition there's also a new Red Bull section featuring two huge footballs, in the opposing club colours of Sheffield United and Sheffield Wednesday. Plus we have a new race section that will see the riders racing over the top of four Mercedes vans.
Half time entertainment has been confirmed
Nine times World Cyclo Trials Champion and Red Bull Athlete Kenny Balaey will be appearing at the Motorpoint Arena on Saturday 4th January for the first time. Kenny travels the world doing competitions, shows, and exhibitions. He produces his own TV show called Kenny Belaey's BIGtime for the Extreme sports channel and he's starring in global commercials for Adidas and Samsung showcasing his all-round riding tyle. Joining Kenny will be the 2013 UCI World Cyclo Trial Champion Jack Carthy, top Brit - Jack is one of the best riders our shores has ever produced.
Sheffield's on Twitter
Just for a laugh let's see who can pick the top two and who will be the top Brit? Twitter page here
Tickets for the best Indoor Trial in the world are still available from the Sheffield Motorpoint Arena. The ideal Xmas present?!