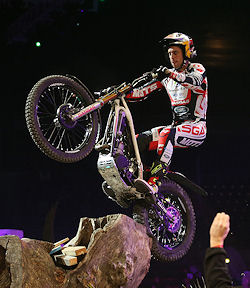 The Palais des Sports de Marseille (Marseille Sports Palace) hosted the second round of the X-Trial World Championship, where several Gas Gas riders participated. The highlight for the Gas Gas team was Adam Raga, who finished second.
A good progression for Adam Raga in the X-Trial World Championship. After a rough first round in Sheffield (UK), at Marseille (France) he has managed to climb to the second step of the podium after a great performance in which, after opting to victory, has finished in a valuable second position. Raga now rises to third place in the provisional championship.
The official Gas Gas Team riderhad qualified for the semi-final after having beaten local rider Loris Gubian in the previous round. In the semis, he got a better score than Takahisa Fujinami and obtained the passport to his first final of the season where he at all times had a chance of winning. Raga is the only rider of the Spanish brand go to the final round.
Of the other Gas Gas riders, Jorge Casales, the reigning Junior Trial World Champion was paired with Albert Cabestany in the preview round and despite showing good technique, failed to qualify for the semifinals. French rider Steve Coquelin participated in his first World X-Trial event as guest rider.