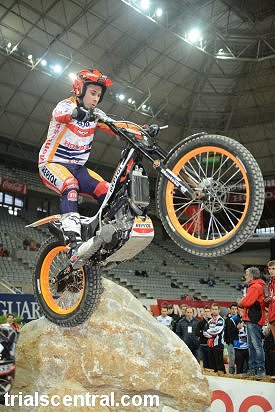 Toni Bou (Montesa Cota 4RT) won the 37th Barcelona Indoor Trial, third scoring event for the X-Trial World Championship, held this Sunday in the Palau Sant Jordi. This has been the eighth victory of the Montesa rider in Barcelona, the last six consecutive, with which he has surpassed his tie of victories with Jordi Tarrés in the Catalan capital. Toni Bou has now achieved 39 victories in this competition, the last 24 consecutive, taking a giant step towards his eighth world championship title in this indoor circuit modality, all consecutive. With 21 points more than his closest rival and just two events to go, the plurichampion could leave the championship title decided in the next event on March 15th in Milan.

Toni Bou clearly dominated the three phases of the Indoor Trial of Barcelona, penalizing only 4 points in the qualifying lap (8 less than the second) and 1 in the semi-final (in contrast to 10 of his closest rival). Takahisa Fujinami (Montesa Cota 4RT) was out of the fight for podium positions after acquiring 26 points in the qualifying lap and 15 in the semifinal.
Toni Bou: "I remember dreaming about competing some day in the Palau Sant Jordi. Victories here are always special, but this time even more. So many things... Breaking the tie with Jordi [Tarrés], increasing my record of consecutive wins in the X-Trial world championship to 24 and above all, coming even closer to our main goal; to win the championship again. It is closer, but we can't cry victory until it's won, so we'll have to continue working as usual. This has been the most difficult event of the season without any doubt and these are the conditions where I feel most comfortable".

Takahisa Fujinami: "It's not been an easy day for me, and I don't know why, only just passing the qualifying lap. I didn't do so well in the semi-final either, paired with Toni, and there was a moment when I decided to offer a spectacle and entertain the spectators".