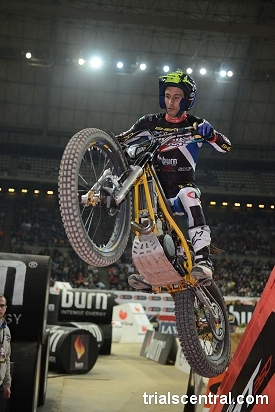 Albert Cabestany – Sherco heads to the fourth round of the 2014 FIM X-Trial World Championship in Milan, Italy this coming Saturday intent on preventing Toni Bou – Repsol Montesa wrapping up an eighth straight title. However the thirty-three year old veteran campaigner is also realistic about keeping Bou at bay, despite Cabestany being his closest challenger in the general standings to date. With just two rounds to go Albert trails Bou by twenty-one points, although perhaps more importantly for the Sherco factory rider, he has only a three-point cushion over his archrival Adam Raga – Gas Gas at this critical point in the season.

Speaking at the recent round in Barcelona, Spain Albert said the following. "So far I am happy with my results this season, we are already in the middle of the championship and I am the rider who is closest to Toni. It is clear that it is going to be difficult to stop him taking the title again, but it is important to start each year with that goal otherwise I think you can easily lose you motivation and begin to drop down the positions."

"I started the year well and was very close to Toni in Sheffield. You cannot let Toni get an advantage in the championship as that is when he is at his strongest and that is the problem we all face now, he has a good lead in the points and has no pressure and that is when he rides at his best. All I can do is to focus on my own riding and I think Marseille was a good test for me, because although I was not at my best I still finished on the podium." continued Albert.

"Each time you are looking to put Toni under pressure and to see if he will make a mistake." Cabestany also went on to say. "The problem here in Barcelona is that every Spanish rider wants to do his absolute best performance as it is our home round, in front of our fans, friends and family. Although at the end of the trial you still receive the same championship points as at the other rounds you have a different and special feeling about this competition, so in the end I am just happy to be on the podium again."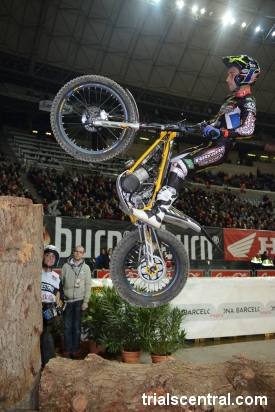 "I am really looking forward to Milan, it is a trial where they always work hard to build new and improved sections each year. The Italians always make a big effort and I am sure they will create something good for the riders and something that is very spectacular for the public too. Again my goal in Italy will be to win as it is always, only in the moment when that is not possible can you then think about finishing second, or at least on the podium."
As the second oldest rider in the 2014 FIM X-Trial World Championship, after Takahisa Fujinami – Repsol Montesa, Cabestany was at his most enthusiastic when explaining how he continues to be a real threat to the younger contenders in the series. "I don't think my age is important as I am still enjoying my riding as much as ever. To remain at the top level you must practice almost everyday and this is not something you can do in a positive way if you are not still having fun when you are riding. I never really think about the riders that I want to beat, I just try to focus on being the best I can be and to do all that is possible so that I can challenge for the win at each trial."

"When you have two young daughters who enjoy what I am doing and are wanting their Dad to buy them lots of things then perhaps you can understand why I still have good motivation." joked Albert with a large grin on his face.