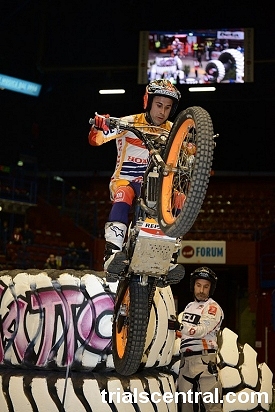 Toni Bou (Montesa Cota 4RT) continues surpassing his own record and adding to his legendary status. This Saturday the Montesa rider achieved his eighth consecutive title in the X-Trial world championship after winning the penultimate event of the season; the Milan Indoor Trial. This takes his tally to no less than eight indoor titles to which he adds another seven, also consecutive, in the outdoor world championship. Fifteen titles, all obtained on the Montesa Cota 4RT, making Toni Bou the most distinguished rider of all times in this motorcycle speciality.
His record in the X-Trial World Championship is overwhelming, with 40 victories, the last 25 consecutive, in the 60 events he has participated in since 2005. He has achieved all of this at the age of 27, maintaining his motivation to aspire to even more.

Toni Bou offered a real exhibition in the three phases of the Milan Indoor Trial, finishing the qualifying lap and the semi-final without penalty and with just one point in the final, due to excessive time in one zone. Takahisa Fujinami finished the qualifying lap with 18 points, leaving him out of the rest of the event.
Toni Bou: "All the indoor trial events are very special for me, I have said this before, and to win the title in this speciality is fantastic. Now they are eight and I'm going to continue keeping up my motivation. I don't want to stop here. Today I felt very, very good from the first moment, I started very aggressively and felt incredibly well on the bike. I'm delighted to have won in this way. And now, with this championship in our hands it's time to work on the outdoor world championship, we've got a lot of work to do, but our results are the best motivation to continue".

Takahisa Fujinami: "Firstly, I would like to congratulate Toni. What he's achieved is incredible, that's obvious. In my case, I made some mistakes today in zones that were not too selective and was out of the semi-final".