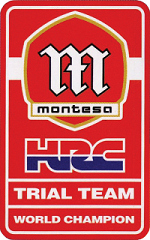 As he stated two weeks ago after winning his eighth consecutive X-Trial World Championship title, Toni Bou (Montesa Cota 4RT) will not stop at anything. This Friday he proved that by giving a new master class in riding and balance at the Oviedo Indoor Trial, the fifth and last event in the 2014 Championship. In the capital of Asturias, the Montesa rider increased his record of X-Trial World Championship victories to 41 (the last 26 consecutive), a run he began in Barcelona on 31 January 2010 - and continues, closing the championship unbeaten, the same as in the three previous seasons.

Toni Bou finished the qualifying lap without penalty and also ended the semi-final in the lead, with a 6-point tie with the second classified rider. In the final he again displayed his skill and completed the stage with 0 points. Takahisa Fujinami (Montesa Cota 4RT) was first to open the qualifying lap but was unable to pass this first phase of the event.

Toni Bou: "Winning is addictive and the more you win the more you like it, the more you enjoy it and the more you want. I'm fortunate enough to be able to enjoy these very special moments. Four consecutive years winning all the events in this championship, with 26 consecutive victories. There's no doubt that we've worked a lot and done it well, and the best reward is this, to be able to fully enjoy these moments. Now we have to concentrate on the outdoor trial season with the same enthusiasm for winning more titles".

Takahisa Fujinami: "Very bad, I can say no more. I was first, I started off badly and it was in this last indoor event of the championship where I achieved my worst result. I'm going to try and forget it and concentrate on the outdoor season, where I'm convinced I'll do much better".
Toni Bou will begin his outdoor trial season this Sunday in Sigüenza, the venue for the first event of the Spanish Championship, which he has won for the last three years.