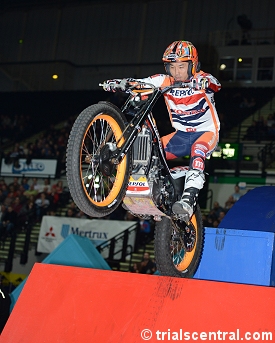 It's official, on the 3rd January 2015 the Motorpoint Arena in Sheffield will play host to Round 1 of the FIM World Indoor X-Trial Championship. Twenty years on and Sheffield still sets the benchmark for 'Indoor Arena Trials' around the World, this years event will reach new heights as it's our official 20th birthday and it's going to be one hell of a party.
Organisers Neil Crosswaite and Martin Lampkin have had their thinking caps on for the last 12 months and although they can't tell you what's going to happen they can tell you it's going to be an incredible night for trials and motorcycles fans alike, a night you definitely won't forget!
The official line up for the event will be the top seven riders in the World; Toni Bou, Albert Cabestany, Adam Raga, James Dabill, Jeroni Fajardo, Takahisa Fujinami and Jorge Casales, and as usual we'll be giving some of our home grown talent the opportunity to compete shoulder to shoulder with the best riders on the planet.
20 years ago a fresh faced young man entered the arena to compete against the best riders in the World, including trials god Jordi Tarres. That young man was Dougie Lampkin MBE, and what a fantastic night that was at Sheffield, Dougie met the challenge head on in great Lampkin fashion and kickstarted both his trials career and the Worlds No1 Indoor Arena Trial.
Our birthday bash is going to be another wonderful night at Sheffield, tickets are selling quickly and as we always tell you the best seats sell first, so to avoid disappointment please book early. Ticket prices have been frozen again this year at £22.50 for under 14s and £32.50 for adults, tickets are available from the Box Office 0114 256 56 56 or online at www.motorpointarena.co.uk (may be subject to a booking fee).