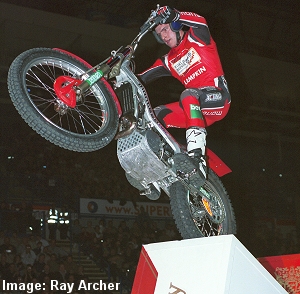 Dougie Lampkin in 2002It's hard to believe that 4th January 2015 will mark the twentieth Arena Trial at the Motorpoint Arena - we've gone right through mid-life-crisis and into the grumpy old man period without blinking. Let's go for a quick blast through the last twenty years while we can still remember!
1996 Our first sell out event, Spanish Superstar Jordi Tarres was the big name in Sheffield but failed to make the final, a young determined Dougie Lampkin opened his account with the first of many wins, pipping Steve Colley by just one mark.
1997 Now an official World Championship event. A very young Martin Crosswaite made his Sheffield debut, standing in for snow-bound Bruno Camozi the only rider not to make it in twenty years. Dougie Lampkin and Steve Colley fought it out right to the end with Dougie taking his second Sheffield victory.
1998 Dougie wins again to become the undisputed King of Sheffield, ex World Champion Marc Colomer and Graham Jarvis joined Dougie on the rostrum to share the spoils.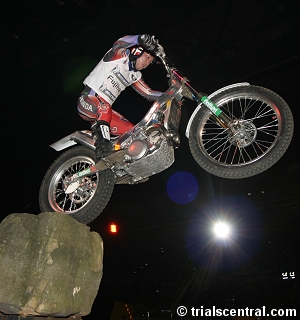 Takahisa Funjinami back in 20041999 Spaniard Davide Cobos was the new face at Sheffield; Kenichi Kuroyama took a huge spill sadly breaking both his wrists. Dougie Lampkin was the eventual winner with Cobos and Colley in runner up spots.
2000 The millennium arrives and Doug gets a new toy for Christmas, his relationship with the Radson Montesa/Honda team begins. Spaniard Marcel Justribo is the new boy at Sheffield. Dougie continues his dominance with yet another win.
2001 Marc Colomer arrived with his brand new factory Gas Gas and Marc Frexia unveiled his new 290 Sherco and took a surprise second place ahead of Colomer. Oh, and of course Dougie won again.
2002 Another young Spaniard by the name of Adam Raga debut's at Sheffield finishing in third position just behind Marc Frexia, he looked a pretty good prospect for the future, but Dougie was in fine form and clinched his 7th straight win!
2003 The new World Indoor Champion Alert Cabestany took advantage when Dougies Montesa caught a cold at the wrong time on the Michelin half pipe section, Cabestanty stole victory from a very disappointed Lampkin, with Raga finishing third.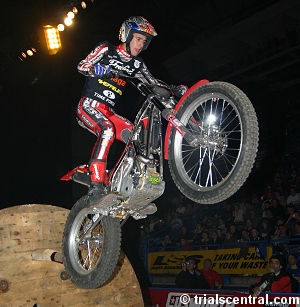 Adam Raga in 2005
2004 Lampkin was still smarting from losing his title the year before and was a man on a mission, he didn't disappoint with victory number eight. World Indoor Champion Adam Raga finished second with Japanese star Fujinami bringing up third place.
2005 Dougie gave the four-stroke Montesa its first airing. Jeroni Fajardo and Tadeusz Blazusiak were new boys this year. Dougie had a nightmare with the four-stroke and victory ended up at Ragas feet with Cabestany and Fujinami taking the runner up positions.
2006 (Jan) The new guy to watch was 19 year old Tony Bou. Two of our home grown talent featured for the first time at Sheffield James Dabill and Shaun Morris. Bou had an incredible ride and finished the eventual winner with Raga and Fajardo in runner up spots.
2006 (Dec) Another great night at Sheffield, Toni Bou on the Beta laid claim to the title The King of Sheffield, the Japanese legend Fujigas finished in second spot with multi World Champion Adam Raga completing the top three trio.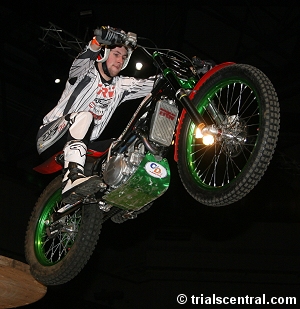 A young James Dabill back in 20072007 Would see the beginning of Bou's love affair with the Works Repsol four-stroke Montesa and he won his third Sheffield on the bounce. Michael Brown, Alexz Wigg and Ross Danby were Sheffield virgins this year, what a baptism of fire.
2008 What a fantastic night, Bou was brilliant and dominated the evening on his Repsol Montesa taking the top spot yet again with Fujigas in second place and DL MBE now 32years young.
2009 Eleven times World champion Dougie Lampkin was back on a Beta this year having being released by Montesa. He could have expected more for developing their World Championship winning bike. Oh and Bou won again on that very bike!
2010 Sheffield was a 'Winter Wonderland', Sheffield Arena shut the car park for health and safety reasons and 8,000 trials fans showed their prowess at finding parking spaces in the most unlikely of places. Our man James Dabill took third place, and Bou won again.
2011 You know who won, Raga and Fujinami took the places, but the revelation was Halifax lad Jack Challoner, he set off like a train, and was leading the competition for a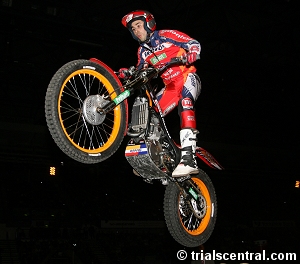 The king in waiting in 2007short time, much to the delight of the home crowd who are gagging for a Brit to put these Spaniards in their place.
2012. Toni Bou was simply remarkable, the Pidcock section started with a huge 10ft vertical climb, it looked impossible, Bou attacked the section and was clinging to very top of the step like a spider to a web, the bike started to slip and no one expected what happened next, Bou jumped backwards from the top of this huge step landing perfectly balanced on both wheels it was unbelievable. Remarkably Bou composed himself and rode straight back up the huge step and completed the section, you had to see it to believe it! Bou deservedly won again with Raga and Fajardo taking the places.
2013 It was Bou again, I've long since run out of superlatives to describe just how good this guy is, so I'm not going to waste my time. Cabestany put in a World beating performance to take second spot (that World didn't have Toni Bou in it), fellow Spaniard Jeroni Fajardo took third place.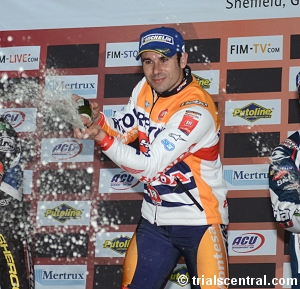 Can anyone steal Toni's crown in 2015?2014 The Spanish maestro took the honours again with yet another amazing ride. The extremely tough Red Bull section looked impossible in one direction, Bou showed that it wasn't, cleaning the section to the crowds delight. Cabestany pulled out another second place with Fajardo taking third place.
2015 James Dabill had a brilliant ride cleaning every section and beating Michael Brown by just one point, Emma Bristow finished in third place just behind the boys and the Spaniards were sent packing with their tails between their legs. JC Jacobsen (look me up) answers on twitter @sheffieldxtrial
Sheffield Indoor Arena Trial is 'Simply the Best' if you've been you'll know that, if you haven't then you don't know what you're missing. Get your tickets to our special birthday celebration at last years prices from the Arena Box office 0114 256 56 56 or online at www.motorpointarena.co.uk tickets are just £22.50 for children with adults at £32.50 you'll be glad you did!