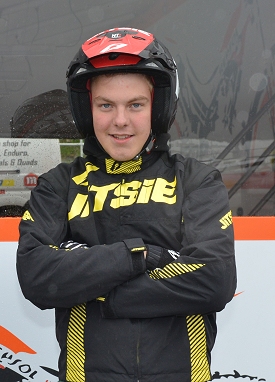 Eddie will have high hopes for his X-Trial debutUnfortunately, popular entertainer and crowd favourite Takahisa Fujinami will not be riding in the 2015 X-Trial Championship due to a recurring injury. His FIM appointed replacement is the young upcoming Swedish rider, Eddie Karlsson.
Eddie, who is a regular competitor in the Outdoor FIM Trial World Championship, started competing in Trials in 2004 and just three years later he was proclaimed as one the best junior riders in Sweden. Before the age of fifteen he had won the Swedish Junior Trials Championship and at the age of sixteen he won the Swedish Trials Championship In 2014 his competitive career received a boost when he became a works rider for the Honda/Montesa factory in Spain.
Eddie is amongst the small group of really young riders to appear at Sheffield. In that group are two of the best riders the World has ever seen! They too made their debut here at nineteen years of age and you might know their names -Dougie Lampkin MBE and Toni Bou. Will this young Swede follow in their shoes? Eddie is undoubtedly one of the best riders to come out of Sweden but is he a World beater? We wish Eddie well it's been a long time since Sweden had a World Trials Champion (1980) he was a Karlsson too (no relation).
There are stillsome really good seats available - if you're quick! The arena box office closes at 8pm on Saturday the 20th December and re-opens on Boxing day from 12am to 5pm then doesn't open again until Saturday 3rd January (the day of the event). Tickets will still be available on-line at www.motorpointarenasheffield.co.uk and seats will also be available on sale on the day of the event.