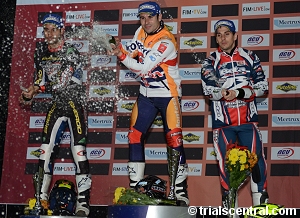 The Repsol Honda Team's first stop-off of the 2015 indoor season will be held, as it has been in recent years, in Sheffield, United Kingdom next Saturday, January 3. Toni Bou will come to the arena again with the intention to remain in the impeccable form that has allowed him to clinch no less than eight consecutive X-Trial titles. These, plus the eight already bagged in the outdoor discipline, add up to a total that make Bou the most successful motorcycle rider in history.
The game plan for the Repsol Honda Team rider couldn't be clearer: to secure an opening victory, to hold on to the world title, and to break a new record for consecutive triumphs, after five seasons in which Bou and his Montesa Cota 4RT have occupied the top step of the podium. Bou has now chalked up a total of 26 consecutive wins, which means the Spaniard has remained unbeaten since January 31st 2010.
Toni Bou, after an intense December of training, will be jostling for top place in the new season with the usual suspects, but will have to do so without his regular Honda Repsol side-kick Takahisa Fujinami, who has made the decision to sit out the X-Trial season and concentrate on a full recovery from his right knee injury. The Japanese rider, a resident of the Costa Brava, has every faith that he will be back to 100% for the opening of the Trial Outdoor World Championship.
The X-Trial World Championship gets underway in Sheffield (U.K.) and will consist of six scored races. Marseille (France, January 31) hosts the second event. Pau (France, February 6), in the French Pyrenees will be home to the third, followed by Barcelona's Palau Sant Jordi (Spain, March 8). The season will finish with events in Wiener Neustadt (Austria, March 14) and Oviedo (Spain, March 29).
The X-Trial rules for this season will include some changes to the structure of the competition. The semi-final is set to disappear. Likewise, after the first qualifying lap with the eight riders, the competitors will immediately pass to a single final round to be disputed by the four best riders from the previous round.