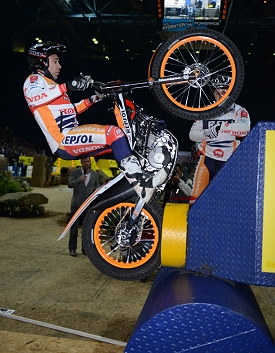 This Saturday night will see the start of the 2015 FIM X-Trial World Championship, and ahead of the action kicking off in Sheffield, Great Britain the big question everyone is asking is – Can Toni Bou – Repsol Honda be beaten? Having already secured an incredible and record breaking eight successive FIM Indoor / X-Trial World Championships, the twenty-eight-year-old Spanish rider once again starts the season as the clear favourite to lift an almost unbelievable ninth straight title.

Ripping the crown away from Bou would be an amazing feat for any of his seven selected rivals, but first they must inflict defeat upon him at a single event, something that not a single rider has managed in the series since January 2010 when Bou was momentarily toppled in Marseille, France. Co-incidentally it was Albert Cabestany – Sherco who holds the honour as the last rider to overthrow Toni, and came the closest to repeating that conquest at Sheffield twelve months ago.

At the opening round of the 2014 series Cabestany pushed Bou all the way with the fight for supremacy going right down to the final section of the night as just two marks separated the top two contenders. Fellow Spanish rider Jeroni Fajardo – Beta completed the top three on that occasion, but failed to shine throughout the rest of the series and therefore will be eager to start his 2015 campaign in order to regain his position in the higher order.

Another rider who will be hoping to open the 2015 FIM X-Trial World Championship in strong form will be Adam Raga – Gas Gas as he looks to eradicate his recent run of poor showings on the Sheffield stage. Last year Raga opened his account with a lowly fifth place after narrowly missing out on a spot in the final. It was this kind of inconsistency that saw him lose his 2013 Vice World Champion status to Cabestany.

Britain's James Dabill – Vertigo will give the all-new Spanish bike its World debut on Saturday night as he rolls out in front of six thousand plus crowd. Dabill's home round last year proved to be his worst performance of an otherwise outstanding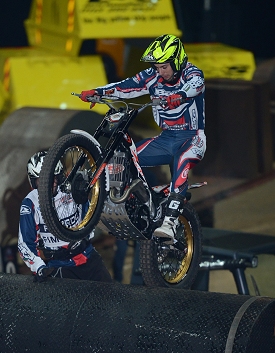 campaign that saw him finish fourth overall in the series, his highest ranking in the series to date. James has set his sights on a podium placing for him and the new Vertigo machine, and if he was to make that happen Sheffield arena is sure to be the scene of some noisy celebrations on Saturday evening.

Twenty-four-year-old French rider Alexandre Ferrer – Sherco joins the 2015 FIM X-Trial World Championship as one of the seven fixed riders having qualified by being the best under twenty-five-year-old candidate from a nation that is not already represented in the series. Eighth in the 2014 FIM Trial World Championship and having participated as a wildcard rider indoors in the past, the young French rider certainly has the pedigree and potential to make his mark amongst his peers.

Sweden's highly popular Eddie Karlsson – Montesa, who turned twenty-years-old on Christmas day, is a more than worthy replacement for the injured Takahisa Fujinami – Repsol Honda, and shares some similarities in his riding style to the Japanese rider. He is sure to be a great addition alongside 2013 British Champion and wildcard entrant Michael Brown – Gas Gas in an event that sees a return to a more traditional format. Going back to the origins of indoor Trial, the best four riders will transfer to the final after the initial qualifying round that will see all eight riders battle it out on their own individual merit. All in all Sheffield is shaping up to celebrate its twentieth birthday in some style.