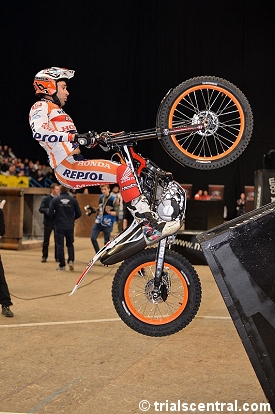 The Repsol Honda Team's Toni Bou achieved an overwhelming victory as the 2015 X-Trial World Championship opened in Sheffield, United Kingdom. The eight times world champion's unbeaten spell continued in the indoor competition after the Spaniard posted his twenty-seventh consecutive triumph in the discipline.
As the 2015 X-Trial World Championship got underway, the adversaries of Toni Bou were forced to witness a high-level display that they were unable to match at any moment of the event. By the end of a first lap that took in six sections, Bou was leading the scoreboard, and making an exhibition of his extraordinary style onboard his Montesa Cota 4RT, clearly showing that possessing the lengthiest tally of triumphs in the sport's history, has in no way diminished his appetite for winning.
A fairly demanding final lap, saw Bou once again in command, although picking up a five-point foot-fault in one of the sections meant repeating the same score as the first time round. This, however, ended up working to his advantage when all the champ's rivals dropped points on the obstacle too.
The result propels the Repsol Honda Team rider to the top of the competition's leader-board. Next 2015 X-Trial World Championship outing is to be held in Marseille on January 31.