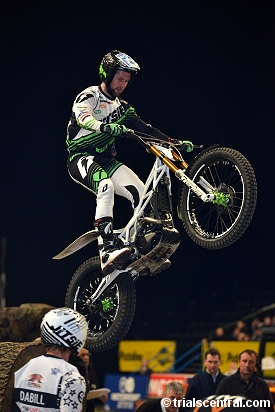 Vertigo factory rider James Dabill made a solid debut on board the prototype Combat machine at the opening round of the 2015 FIM X-Trial World Championship staged in Sheffield, Great Britain. The twenty-eight year old British rider who lives close to the event venue showed some great moments of potential in front of his noisy home fans despite having only first ridden the all new machine just three weeks earlier.

Showing no signs of real nerves Dabill coped well with the heightened media attention and extra pressure on his Yorkshire shoulders as he was entrusted with giving the prototype Combat its first ever-competitive outing in the hostile setting of the FIM X-Trial World Championship, which allows no room for errors.

Dabill brought the almost capacity crowd to its feet as he cleaned the opening Red Bull section with ease and with a moment of magic as he opted to descend the last steep drop to the arena floor on the front wheel. Another clean ride in the bright yellow skip section topped a performance that was packed with promise, but that was restricted by some small mistakes in the other hazards that would ultimately prevent Dabill from transferring to the final.

Vertigo Sports Team Manager Dougie Lampkin, along with other members of the Vertigo squad were on hand to witness this historic occasion and offered the following words post event. "It has been amazing to finally see the new bike in real action, and to see it perform so well at the highest level and in a tough situation."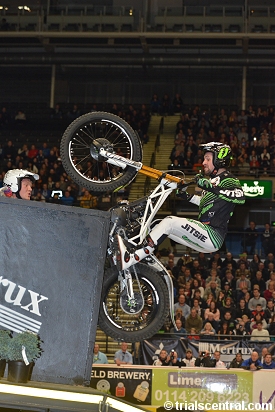 "We were never under any illusion that this was not going to be a difficult debut for both James and the Combat, but overall I think we have achieved a good starting point to build on for the other events now."

Pleased to have got his first event under his belt Dabill stated. "It felt fantastic to be out there in front of so many of my fans on the new Combat and to have the chance to show the World where we are up to. Having only had three weeks on the bike ahead of coming here was not ideal, however we have done our best to be ready and I think we can be quite happy how things have gone."

"Although we have work to do the bike showed just how good it actually is at this early stage, and despite a couple of mistakes where I was not totally familiar with it I felt quite comfortable out there amongst the best riders in the World and on some sections that were as tough as we expected them to be."

James ended by saying. "We now have a few more weeks to test and train before the next round, where hopefully I can show the progress we have made again."

The Vertigo team will now focus their efforts and attentions on improving on the sixth place achieved in Sheffield when the championship continues in Marseille, France at the end of this month.