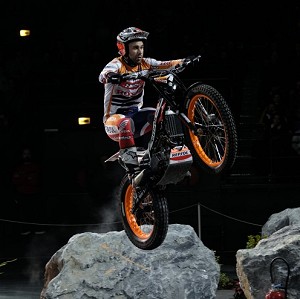 In spite of showing himself to be in excellent form and turning in a faultless five-section qualifying lap without penalty marks, Toni Bou, nonetheless, ended the X-Trial World Championship event occupying second step of the podium. A minor error on the penultimate hazard in the final round proved enough to deprive the champion of what should have been a victory. Indeed, the five sections were not nearly taxing enough to allow the Montesa Cota 4RT rider the chance to make amends for any marks dropped against Adam Raga, the event's eventual winner.
Toni Bou will have to content himself with second on the final score-sheet in this, X-Trial World Championship's first visit to Pau, France. But the eight-time champion will already be sizing up the next prize: the Trial Indoor meeting at Barcelona. The Spanish competition will celebrate its 38th edition by hosting the fourth round of the FIM X-Trial World Championship 2015 season, which is set for Sunday March 8 at the Palau Sant Jordi in Barcelona.
Toni Bou will be back in action there on home-soil as current leader in the overall standings with 55 points, with immediate rival Adam Raga trailing at 47 points.
I saw this morning that it would be a very easy race when we looked at the sections. The slightest mistake would have been impossible to make up, and that's the way it was. Very few sections and very easy. I tried to make it through section four with a clean sheet, but in the double after the complicated opening, maybe I went at it too quickly. It was very close, but I wasn't able to make it.


I'd like to congratulate Adam Raga, who did really well and deserved the victory today. That has been 28 consecutive wins in the Indoor, and that's not normal, not having made a mistake for such a long time, and always being there… but right now, it's time to focus on the next race, where the goal is still the same: win, and triumph in the championship. I feel really comfortable with the bike; I've got to do the job in Barcelona.