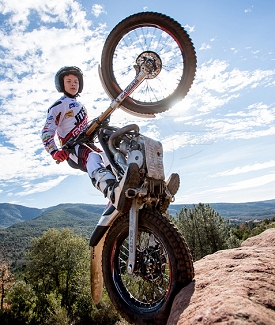 Reigning German Trial Champion, teenager Franz Kadlec – Gas Gas will once again, as he did last year, provide the local interest in the third round of the 2016 FIM X-Trial World Championship when it takes place this coming Saturday at Wiener Neustadt, Austria. Kadlec was just seventeen years old when he made his debut in the series at the Austrian event last season and as expected it proved to be very much a baptism of fire despite a spirited ride, he had to settle for eighth place in an elite field.
But the experience was invaluable for Franz, competing against the more established protagonists such as Toni Bou – Repsol Honda who was on his way to securing a ninth consecutive FIM X-Trial World Championship, and four-times indoor series winner Adam Raga - TRS.
Still only eighteen - Franz who will celebrate his nineteenth birthday this July and is a former winner of the FIM Youth Trial World Cup and the European series, plus was the runner-up in the 2014 FIM Junior Trial World Cup, is now much better equipped to make his presence felt at Wiener Neustadt as he can count on a full year's experience in the World Pro class of the FIM Trial World Championship.
Franz also boasts the benefit of a winter's training in Spain on his new Gas Gas and more importantly has been able to warm-up with a couple of national Indoor Trial events including most recently at Bielefeld where his confidence was boosted by an excellent second place finish.
Speaking ahead of his return to the series Franz said. "I am really looking forward to being a part of the FIM X-Trial World Championship again, just like I did last year when I rode at the event in Austria as a wildcard. My preparations have been good as we have had two national German indoor events recently where I felt that I rode well"
"So far my winter training in Spain has been going great, I have now been on the Gas Gas for three months and have a good feeling with the bike."
"I can't wait for the 2016 FIM Trial World Championship to begin as I am confident it can be a good year for me, and I hope that I can start with a good result in Wiener Neustadt as there will be a lot of German fans to support me, so I will doing my best for them."