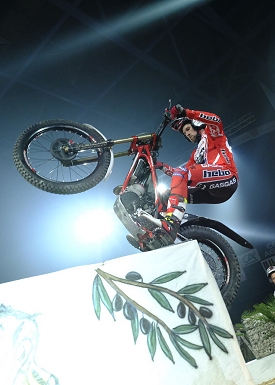 James Dabill's progress throughout the FIM X-trial World Championship has become patently clear in all the events of the season and finally the British rider demonstrated his excellent adaptation to the Gas Gas TXT 300 Racing and its high quality by qualifying for the final of the last round of the 2017 X-Trial Championship in Nice, France. Dabill managed to win his passport to the final after solidly competing in the qualifying round where he only dropped five mark and those were collected in the final section where none of the competitors managed to ride clean.
In the final, James Dabill once again demonstrated an incredible level of riding mastery with the TXT 300. Although he achieved the same amount of penalty points as the rider classified in third position, the Spanish rider Jeroni Fajardo, he lost a second in the tie-breaking speed section which cost him a place on the podium.
The current number one British rider now moves on to concentrate on the World Outdoor Championship that gets under way in Camprodón, Spain on 13th May where he's aiming for podium position he so deserves.
The other rider flying the flag for Gas Gas in X-Trial, Franz Kadlec also put on a good show in Nice and closes what has been his first season of adaptation to World X-Trial with eighth position, but showing clear improvement in his riding.