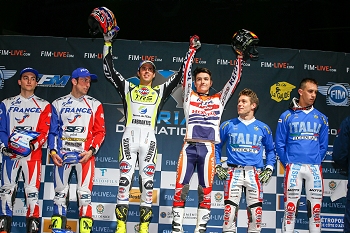 Reigning champions Spain start as clear favourites to retain their FIM X-Trial des Nations title this coming Friday in Pau, France and in doing so extend their unbeaten run in the event to eleven consecutive victories. Led by Toni Bou - Repsol Honda who last weekend in Nice, France claimed his eleventh FIM X-Trial World Championship, he will be joined on the team by Jaime Busto - Repsol Honda who finished the 2017 X-Trial series in seventh despite only competing twice as a wild card rider.
Spanish riders filled the top four positions in the 2017 FIM X-Trial World Championship, but a rule introduced last year means nations must include one rider under twenty-five years of age which is why nineteen-year-old Busto is being included instead of one of his more experienced compatriots.
"I have Jaime Busto as a team-mate in the Spanish team because the regulation requires that the second rider is under twenty-five," explained Bou, who missed last year's event through injury. "He will give 100 percent and we will try to win with this good team."
"I will try to advise Jaime on what he needs, but I don't think he needs much advice. When we are going to compete we never want to lose so we will be focused from the first moment because we want to win this year too."
Busto, making his second appearance in the FIM X-Trial des Nations following his debut in 2016, was perhaps the biggest surprise of the 2017 X-Trial series, starting his campaign with an indoor career-best fifth at the opening round in Barcelona, Spain. Jaime then went one better in his second wild card ride of the season, making the final for the first time with fourth in Marseille, France at round three.
Since the event was first introduced in 2002 - although there were breaks in the competition in 2007, 2009, 2010, 2011 and 2013 - Spain has remained unbeaten. This year they will face competition from two-man teams from Germany, Great Britain, France and Italy.
In 2016 France finished second ahead of Italy, Great Britain and - for the first time - a team from America.