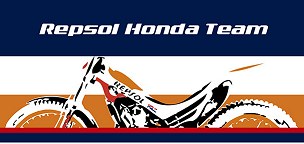 The Italian Grand Prix marks the midway point in the World Championship, as Repsol Honda Team arrives in Alagna Valsesia in the hope of retaking the championship's overall leadership, after having conceded it last week in the Corsica GP.
With very little in it and Toni Bou just two points off first place, getting back on top will be the clear goal of Team HRC at the end of what will be the seventh championship race, and the fourth round so far this season.
After the rib injury picked up prior to the Japanese GP just over a month ago, Toni Bou is now fully recovered. The Montesa Cota 4RT rider is looking forward to being back in shape for Alagna Valsesia and will be hoping to continue with his usual winning form over the coming dates.
Bou's Team-mate in the Repsol Honda Team, Takahisa Fujinami, also goes into the race hoping to improve on recent results. 'Fujigas' currently holds the record score in Italy with 20 consecutive podium places in world championship events in this country. Takahisa is currently in third overall place in the competition.
Toni Bou: "Last weekend didn't go too well. The first day started out pretty well, but the sections became more dangerous and trickier, and we didn't finish the day. On Sunday I made a few mistakes and it cost me the race. Now we're in Italy, where the races are normally more complicated, and I've got here in good shape and want to win. It won't be easy, but I'll give it a try."
Takahisa Fujinami: "I've been training really hard in preparation for this, and I hope that it will be very different to last week's Trial, with much more natural and slippery sections that suit me a lot better. I hope to finish well and get a good result."