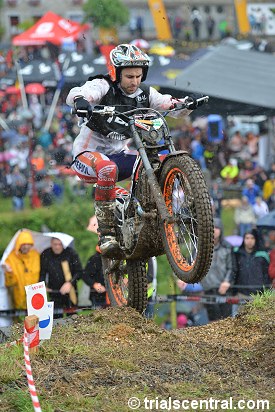 With yet another victory, Toni Bou took his World Trial Championship victory tally to 60 today in Belgium's Comblain-au-Pont. However, it was anything but an easy win for the Repsol Honda Team rider, whose near flawless second lap made amends for the previous one, in which the Spaniard had committed more than his usual quota of errors. The victory is the rider's third this season.
On a day made complicated by continual downpours, leaving some sections with a heavy build-up of mud, not to mention slippery hillside and rocks, Toni Bou on the Montesa Cota 4RT was able to negotiate the delicate terrain of the Comblain-au-Pont track with great skill. The results brings Bou an additional 20 points in the world championship and stretches the deficit over nearest rival, Adam Raga, to four points.

The difficult condition of the terrain proved to be something of a salutory lesson for Takahisa Fujinami, who in spite of two tricky first laps, was able to pull back in the third to finish fourth overall in the event. Repsol Honda Team's Japanese rider now lies in fourth place in the overall standings.

The next stop for the Repsol Honda Team will be the two-day British GP next Saturday and Sunday, July 19-20, the championship's sixth outing, set to take place in Penrith near Carlisle in north-west England.
It really wasn't an easy win today. I got a puncture in section 3, which should have been an easy one, and I picked up a 5 that I wasn't expecting. I found it hard to get into the race, and it wasn't much of a first lap for me. Things improved a lot on the second lap, and, in spite of a few problems on the third, I was able to hang on to first place. That's why I'm so pleased with the victory. It wasn't the type of terrain that I like the most, with so much slippery mud. It made some areas really difficult, and if you made any mistakes it was hard to make up for them later.

Fourth place isn't really much to be happy about, but in the end I'll have to content myself with it. I had a bad first lap, but I felt at ease on the bike in the second and third. Nevertheless, the riders were too far ahead to catch up with, so I missed out on a podium place.


But all said and done, I have to feel happy because I've refound the confidence that was lacking in the previous races, something that I've been able to improve on, and I felt comfortable in the more difficult sectors today.